Who Wants to Sell More Tickets for Their Upcoming Events?
That's right, we're looking at you. Thankfully, you came to the right spot... here you can find out why event promoters everywhere are switching to PromoJuice to sell more tickets for their events. PromoJuice taps into the power of "groupthink" and peer pressure, leveraging street teams to produce impressive results for event organizers all over the world.
Watch our Short Video Demo Below 👇
So what does the Ticket Sales Module from PromoJuice offer you?
1. Connect Your Ticketing Company with PromoJuice

Simply connect your ticketing company to your PromoJuice account. All of your events, ticket types, inventory, and prices will be instantly synced over.
What if your ticketing company isn't supported by PromoJuice? (Trick question!) ALL ticketing companies are supported by PromoJuice. If we aren't directly integrated with your ticketing partner of choice, you can still set up your events and ticket types using another method.
2. Set Up Your Upcoming Ticketed Events on PromoJuice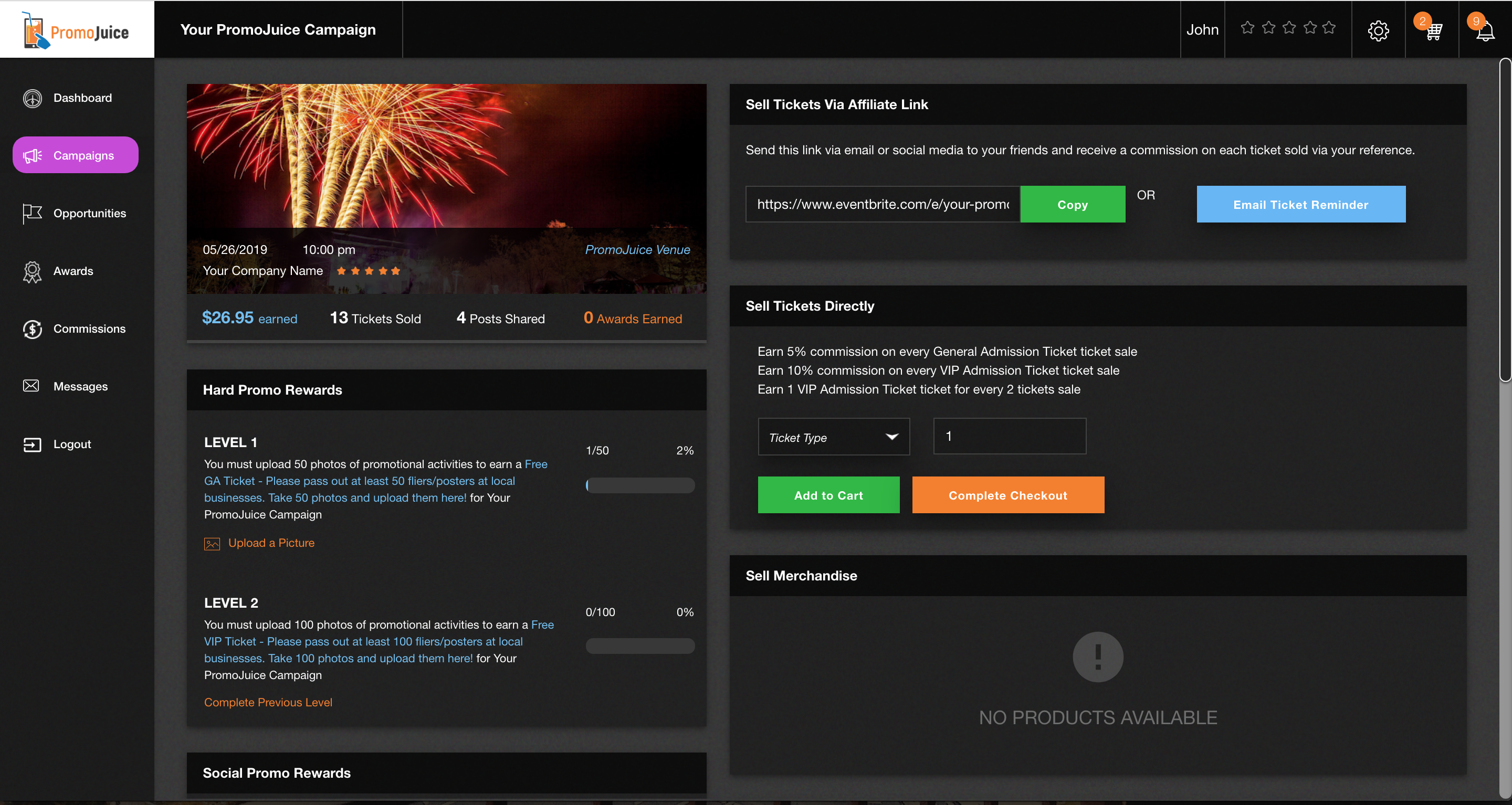 Have a festival taking place in the next six months? String of weekly shows coming up at a local venue? No problem. Simply create a campaign for each of your upcoming events, and link those campaigns to your events online. Within minutes, your street team will have access to all of your tickets for sale through the PromoJuice app.
3. Add Commission and/or Free Tickets as an Incentive

Make selling tickets FUN! With PromoJuice, you can set a commission amount for every single one of your ticket types in either a percentage, or a dollar amount. Anytime a ticket is sold through your street team, PromoJuice will automatically deduct the commission from your earnings and pay it out to your street team member. What does this mean for you? You never have to worry about payouts again!
You can also offer free tickets as compensation - anytime one of your street team members sells a certain number of tickets, PromoJuice will automatically generate a ticket and email it to your street team member. No guest lists - no headache.
4. Start Seeing Results!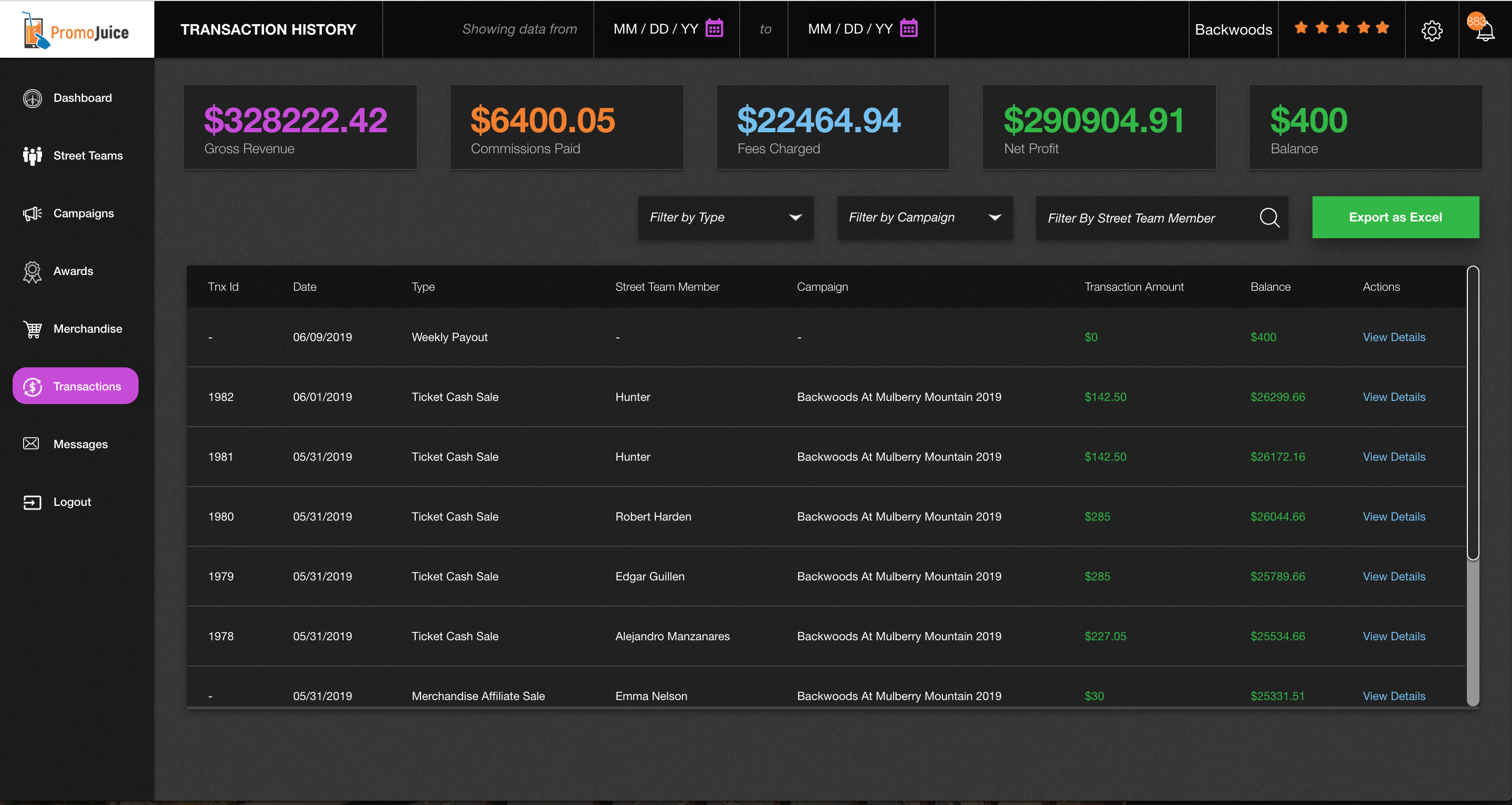 Sit back, relax, and watch as additional sales start rolling in. With PromoJuice, your street team members can advertise your event online, automate emails to potential customers, run credit cards... and even accept cash in person! All of the above, means more ways to sell (and more importantly, more ways to close).
5. Commission Your Very Own Custom Branded Mobile App for Even More Sales
In our mission to provide event organizers the tools they need to put on bigger, better, more profitable events, we also offer a custom branded mobile app development service for our clients. That's right - your very own custom branded mobile app on the App Stores! The idea that only "big players" could afford having their own mobile app was ridiculous to us... so we began a service to provide YOU the most affordable means to own and customize your very own app. PromoJuice has your back, so you can drive more promo, and drive more sales.