We have rolled out new features on the platform that add flexibility to day-of operations, open our platform to more venues, and give a fresh new look to our outstanding software.
Reserved seating is now available
Now venues and events with seating charts can reap the benefits of the PromoTix platform. With our reserved seating features, you can easily:
Quickly create and edit seating charts
Sell tickets to reserved seating shows
Save seating charts for future use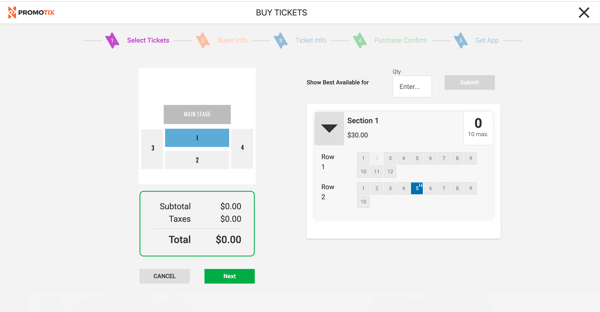 As always, PromoTix charges no ticket service fee to the attendee or organizer. Reserved seating is now available through our Professional Package. Click the link below to get connected with a member of our team to see how PromoTix Reserved Seating could benefit your venue or event.
Limit access to staff on the PromoTix Organizer Mobile App
Now you can limit what screens can be seen in the PromoTix Mobile App to allow volunteers or other staff to assist with scanning or selling tickets at the gate without seeing sensitive information such as sales data.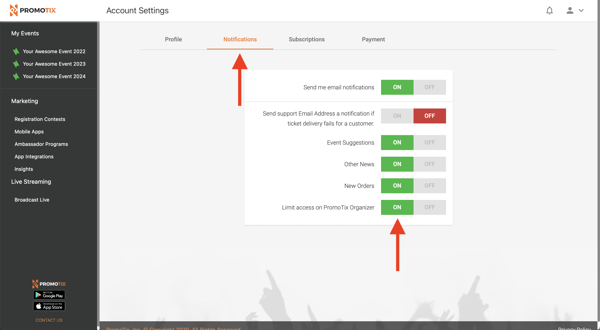 When the "Limit access on PromoTix Organizer" setting is enabled, only two screens will be accessible:
Sell Tickets
Check-In


Support for Stripe's credit card terminal (
BBPOS Chipper 2X BT)
Adding even more flexibility to day-of operations, the BBPOS Chipper 2X BT from Stripe is an easy-to-use credit card terminal that can now be used with our PromoTix Organizer Mobile App. With this device, you can swipe, insert, and tap credit cards with ease.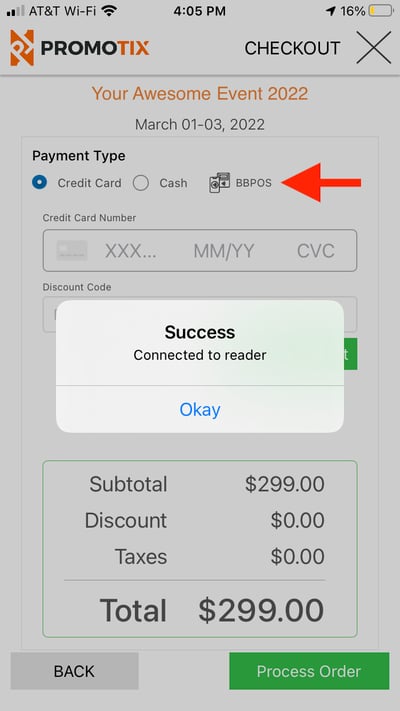 In addition to the convenience of using this credit card terminal, Stripe offers discounted payment processing rates for sales made using it. Please see here for details.
Fresh design coming soon!
You may have noticed that this year we rolled out a new logo. We also consolidated our various brands- PromoJuice, PromoStream, and PromoSuite - to just PromoTix. We've got one final update that we are sure you will love. Coming soon we will be launching a fresh new look for our web and mobile applications.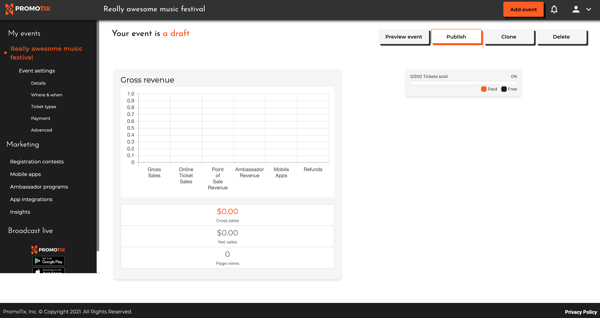 The new designs will launch in August, but you now can still unlock all the powerful features of our software like our fee-free ticketing, ambassador programs, viral registration contests, ticketed live streams, and more!

About PromoTix
PromoTix is unbeatable event ticketing software for music festivals. Before we built PromoTix, we threw music festivals, concerts, and owned music venues. We saw what was broken with traditional ticketing and created PromoTix.
Our goal is to help promoters make more money with ticketing and marketing software built specifically for music concert promotion. Our event creators utilize our software to skip those massive ticketing fees that other ticketing platforms charge. Skip those five-figure fees and come join the PromoTix family for your next event.