Here are the most popular wellness practices you should be hosting a live stream for
Working out has transformed thanks to the development of technology. You no longer have to conform to the classes that aren't as well-liked but instead customize it to your needs. As a live stream host, you can tailor to popular demand and reach different audiences with your virtual practices. If you are looking to begin live streaming and want to look into specific ways to teach wellness practices, keep scrolling to learn more.
Bodyweight training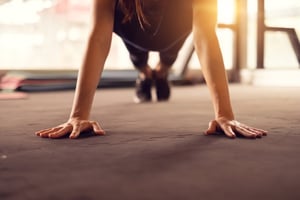 By hosting a live stream of bodyweight training, you can help attract people that are interested in targeting different muscles in the body. Whether you host the live stream from a studio or from your home, you can encourage people to join by simply attending the stream. You can also help promote your event by selling tickets and keeping people accountable to attend once the day of your event arrives.
Bodyweight training requires no additional equipment other than a person's own body. This can also help you limit your expenses when looking to host a live stream bodyweight training class. Another advantage is that the host can encourage attendees to tune in from different places and time zones. Live-streaming simple 30-minute workouts can be time productive for both the host and the audience!
Yoga classes
| | |
| --- | --- |
| Yoga classes can be hosted and live-streamed to help people improve their flexibility, sculpt their bodies, or learn how to breathe better. As a host, you can help people move at their own pace when live-streaming your classes instead of holding them in person. | |
Virtual yoga classes can be taught to people of a variety of different experience levels which can increase the number of people that attend your live stream. With the boutique-style setting, first-timers can feel more comfortable beginning a new class because they will be in the comfort of their own home. No need to worry about awkward encounters with other people in your class!
Dance classes
Trying to look for something to host that makes your heart race that's not a HIIT workout? Do you love dancing and want to begin making money by teaching that? Hosting dance classes virtually can help you get in that exercise you love while making money doing it. By hosting dance classes virtually, you can help people relieve their stress in the comfort of their own homes.
Interested in learning how to live stream?
Take a look at the "Complete Guide To Take Your Wellness Practice Virtual" in the PDF below to get more information on how you can become a live stream host. Learn how to take your wellness practices virtual after reading about the different classes you can host from a studio or even the comfort of your own home!