Why you should be hosting your own live stream
The shift from in-person to online events have increased as streaming services and platforms have gained popularity. Companies are transitioning their events across the globe to adapt to online streaming with the help of technological advances. In order to keep up with the shifting trends, companies may be looking for a platform that can satisfy all of their industrial needs.
Live streaming has provided and allowed people to enjoy experiences in the comfort of their own homes. There is no longer a need to drive hours to a location or wait in long check-in lines to gain access to events. With the right platform, live stream hosts can do everything they need in one online system.
Getting started with live streaming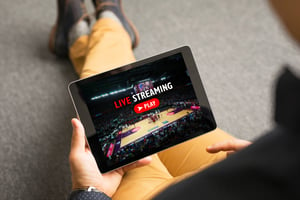 The general myth behind live streaming platforms is that only companies and individuals with large followings can be successful at hosting online events. With the continuous change in technological advancements, more and more platforms have become accessible and convenient to host smaller-scale events as well. The importance of live streaming is knowing what content is going to be shown and who the audience is.
Anyone can host a ticketed live stream, but the experience needs to be something worth paying for. In a survey conducted by Livestream, 67% of people who watched a live stream answered that they would likely buy a ticket to a similar event if it were to occur again in the future.
| | |
| --- | --- |
| "67% of people who watched a live stream answered that they would likely buy a ticket to a similar event…" | Virtual ticket options have created an easy incentive for clients to buy and re-sell virtually, with many companies even giving a cheaper price incentive to purchase tickets online. While, in general, virtual ticket options bring companies more revenue, the transition to live streaming platforms exposes the event to an even wider audience with easy accessibility. |
The types of events can range from cooking demos and yoga classes to music festivals and conferences. Choosing the correct streaming platform for the event intended can also help boost attendance and future engagement.
Choosing the right streaming platform
The problem
A majority of live streaming platforms are built with user-friendly options designed for consumers, not the creators. When deciding which streaming platform is right for your business, it's important to look at which can best accommodate your needs and not the cost. While free options have been made available to live stream events through Facebook, Youtube, Instagram, and newly introduced LinkedIn, these platforms only allow for surface-level streaming services that work for a company's brand.
Another drawback that comes from using these free platforms is the number of ads that pop-up during a user's experience. All of these issues can impact both the experience of the creators and the audience participating in the live stream.
The resolution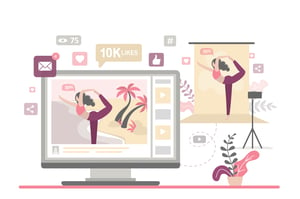 Hosting a live event doesn't have to be a stressful thing! With the right platform, all of your needs can be met ranging from A-Z. Whether you are looking for new audiences to target, searching for an easy way to promote on multiple systems, or selling more tickets earlier, there is a solution for it. PromoTix allows you to sell tickets to any live stream and broadcast any event, class, or conference. The Live stream platform allows you to sell tickets to attendees anywhere around the world.
How to live stream your first event
Here's a helpful resource! We created this free extensive PDF that covers everything you need to know from start to broadcast. It covers equipment, choosing a platform, setting the scene, and even testing before going live.