Virtual event industry expected to grow
In 2019 the global virtual events industry was valued at $77.89 billion, and that number is expected to $774 billion over the next decade. The industry is already starting to see massive increases in virtual events. Forbes reported a 1,000% increase on one virtual event platform alone, with over 52,000 events being hosted.
So what exactly is a virtual event? Virtual Edge defines it as, "an occurrence of people gathering together where some or all of the attendees are not physically in the same location but are connected in a common environment. The common environment might be one of many types but is usually enabled through the use of computers and the Internet."
According to a report by Grand View Research, the most popular types are "job fairs, trade shows, company conferences, sales-meetings, and summits". Recently, music festivals and concerts have grown in popularity too. Twitch saw it's Music and Performing Arts category grow by 385% year-on-year to 17m in April 2020.
Curating unique events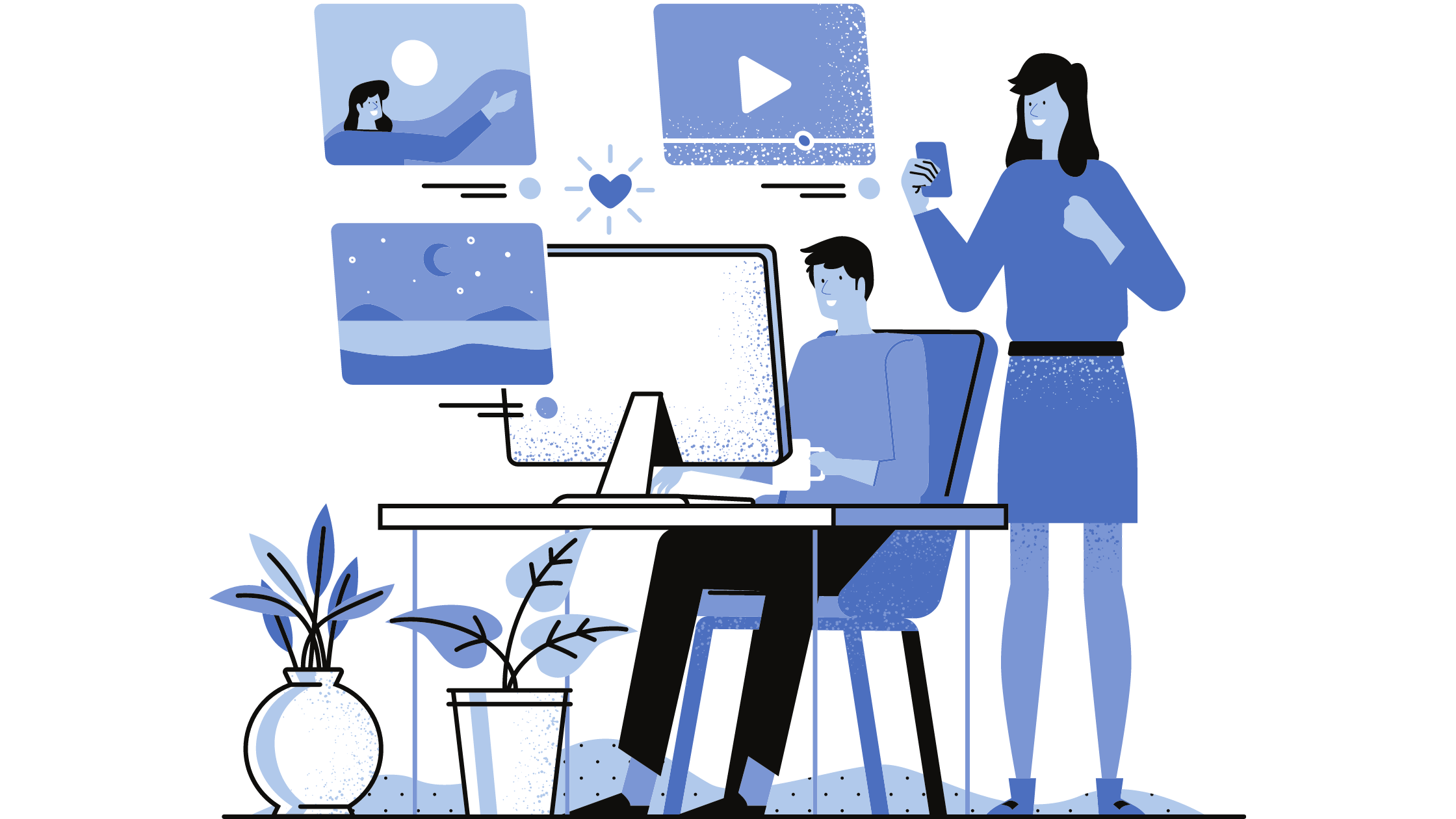 Virtual Events come with their own sets of trials and tribulations, especially when it comes to broadcasting and marketing. We spoke with seven event organizers to get their takes on best practices when it comes to marketing a virtual event. Each organizer recently hosted a virtual event and provided us with insight into their challenges and successes.
Shaq's Fun House vs Gronk Beach
Paul Reed, VP Marketing, Medium Rare
Our event placed Shaq vs Gronk in fun challenges to raise money for charity. The stream generated over 9 Million viewers resulting in 500k + comments, likes, and interactions during the stream. The first-ever Shaq vs Gronk event created several viral segments, which generated over 20 million social views within 24 hours of the event, featuring highlights across ESPN, Bleacher Report, SportsCenter, Barstool Sports, Complex, and Yahoo, cementing it as one of the largest, most engaging live streams of all time.
Retrospekt Fest
Lauren C Kashuk, Founder & Creative Director, Ideaison (Instagram)
Retrospekt, a cinematic music experience aired on July 11 + 12, 2020 on ThisSongisSick's YouTube and Retrospekt's Twitch. In its first installment, it generated 2.5 Million Unique Viewers Worldwide. It also secured the front page of Twitch, was the most-watched Twitch music stream (as shown through viewers), secured 3X more viewership than Insomniac, and garnered press coverage from Billboard, iheartradio, Ministry of Sound, EDM.com, LAist, and more.
It was inspired by experiences (inclusive of EF, Burning Man, Lightning in a Bottle, etc) that have shaped us and our views of the world. During COVID, whether we want to admit it or not, the concept of time feels lost. We took inspiration from the past event "world" and used it as a catalyst to come together in the present to stand up for what we believe in to create a better future.
SummerEyes Digital Festival
Franz Hilberath, Publicist/Consultant, Franz.mp3 (Instagram)
SummerEyes Digital Festival took place on July 2 + 3 and hosted 60+ artists over two days. In partnership with electronic music outlet MP3DU, EDM.com, and Unitea Music app, we created an innovative virtual event + top tier music curation.
FIREWALL
Cheyanne Powell, Co-Founder, The ROZ Projects (Instagram)
Kelsie Hoffman and I wanted to target artists that were in the current market, giving a voice to the underground and independent electronic and pop space while giving back to the music industry during COVID. The event consisted of 12 artists, 5 visual artists, and 3 campaigns.
Pride Fest
Noah Levinson, Founder/Promoter/Talent Buyer, Levitate Events
A live stream celebration of LGBTQ+ representation in music, with nearly 50 artists from around the world, and 100% of net proceeds from donations are donated to organizations that support LGBTQ+ youth and POC.
#WCMOnTour
Ashley Kervabon-Stoyanov, Founder/CEO, #WomxnCrush Music (Instagram)
From August 2020 through December 2020, we are hosting a virtual showcase featuring local womxn songwriters to support a womxn-led local music venue & industry panel to connect local music communities in a new location around the USA every two weeks.
Thrill-O-Ween
Donavan Ruther, Owner, Phanosity (Twitch)
The events are where we provide quality EDM events, where DJs perform in from of their cameras, doing live mixes for their fans, and/or for people to discover talent.
Challenges presented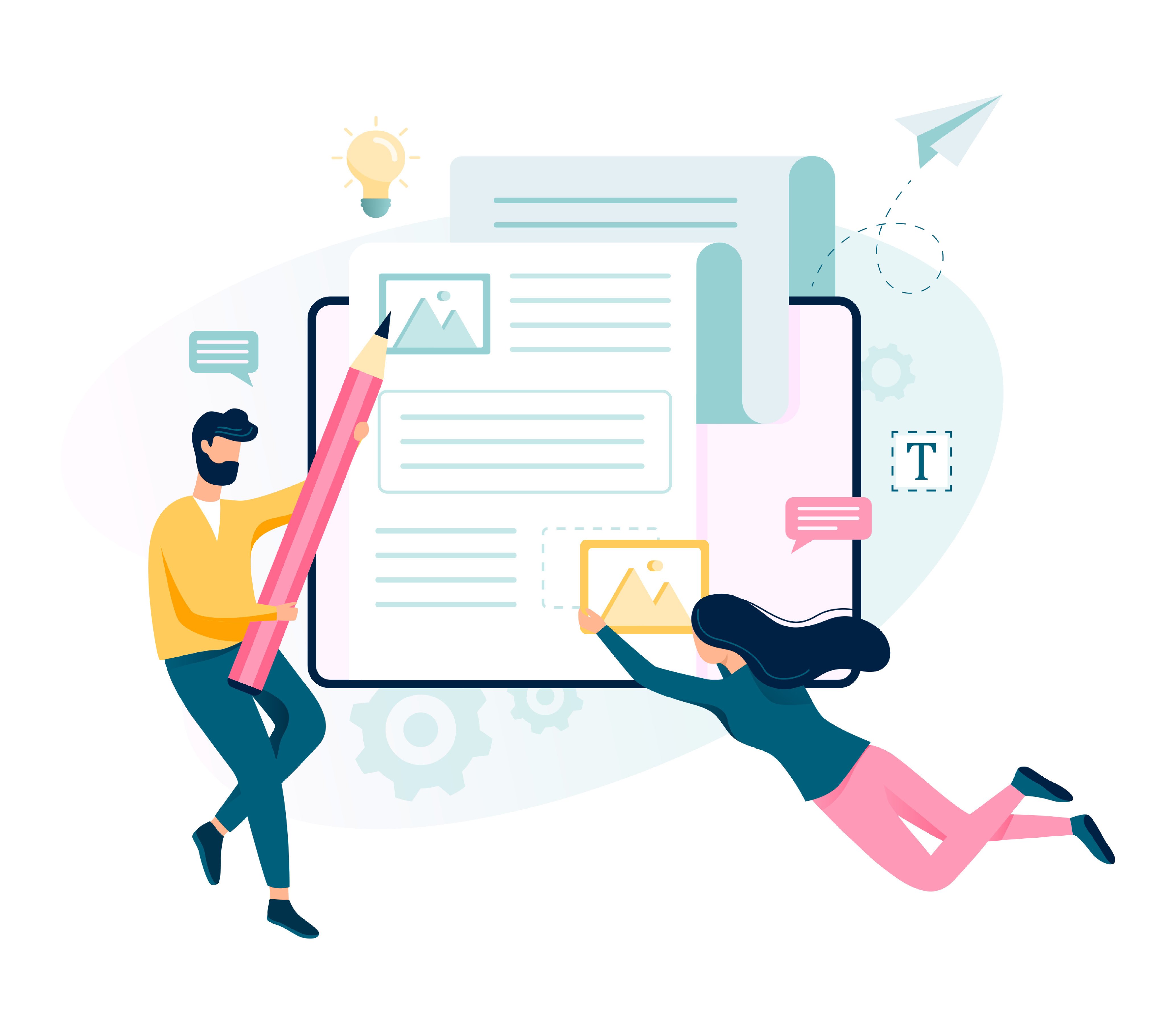 Virtual events present their own unique set of challenges. While each organizer has organized and marketed in-person, planning and promoting a virtual event was for the most part a whole new ball game. Major themes gathered from these interviews centered around the change in event structure, learning new technologies, managing artist expectations, monetization strategies, and marketing.
"Things to think about: 1. how to make money or help others make money 2. how to promote 3. how to keep people engaged during the event. Identify those key points & you'll be golden!" -Ashley (#WCMOnTour)
"Many artists wanted high fees, other artists were selective about their live streams, marketing was difficult, the organization was entirely different than creating a live event." -Noah (Pride Fest)
"A couple of the challenges of creating virtual events includes promoting, and managing an entire event solo, including graphic design work for flyers, broadcast overlays, managing social media, etc."-Donavan (Thrill-O-Ween)
"Production with filming, Production with safety for artists, Raising Funds" -Lauren (Retrospekt Fest)
Another theme that emerged was finding avenues to innovate and create a stream that stood out in a seemingly oversaturated online environment.
"It's commendable right now to throw virtual events when we cant gather together like we're used to, but let's keep the community focused on moving forward. If you're not compensating these out of work artists for their time and art, the event should be benefiting some of the pressing needs in the world today. We aren't not gathering to take a few months off. We're not gathering because there are global health issues and numerous other things going on. The music scene has always been about inclusivity and community, so let's keep finding ways to incorporate and innovate that into what we do." -Franz (SummerEyes Digital Festival)
Think through monetization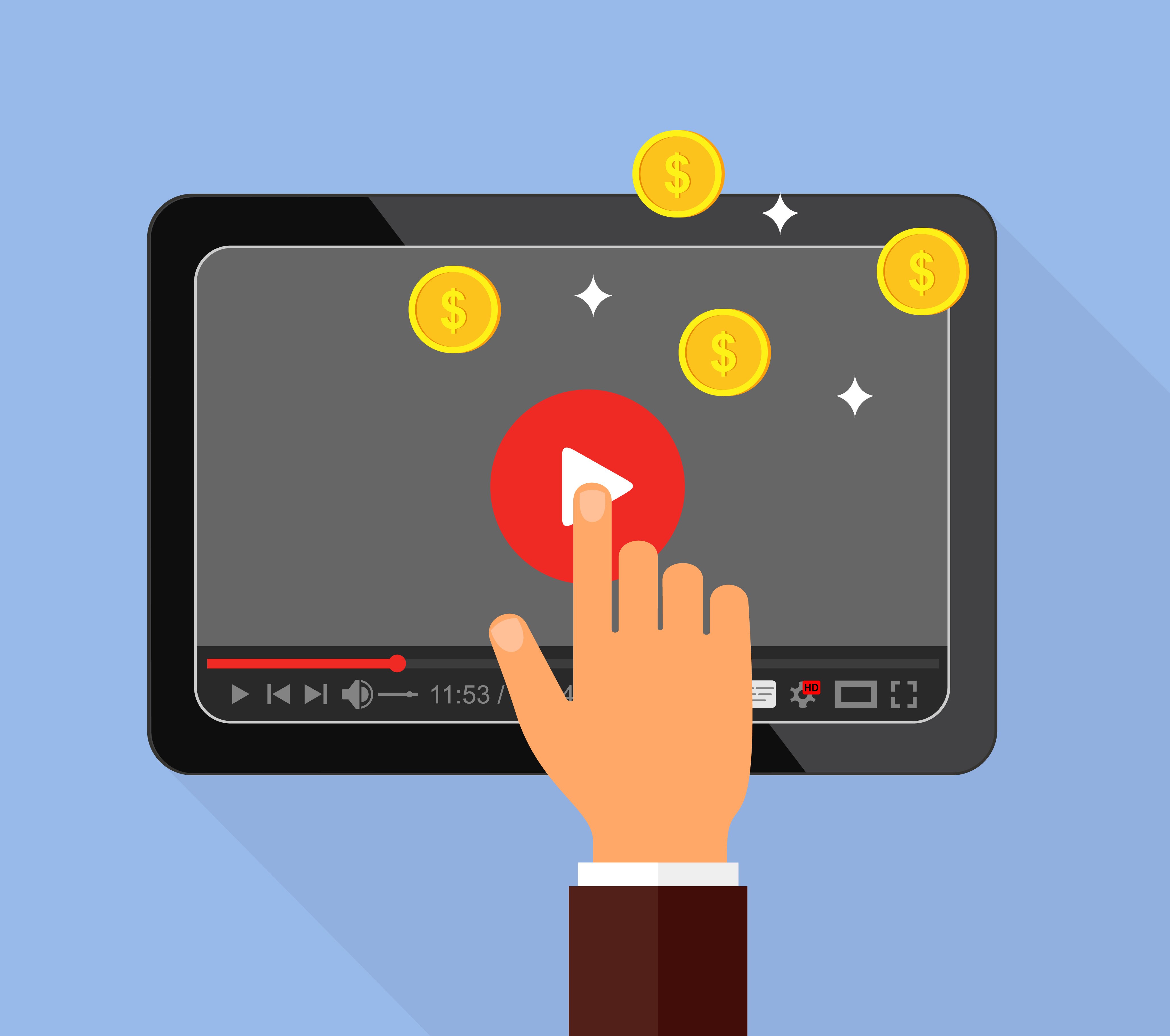 One of the biggest obstacles with virtual events is determining the best way to monetize. While many of the organizers above collected donations for charity, event organizers still needed to figure out how they were going to pay for production costs ahead of time.
"Need to look at how you're going to monetize the stream to cover the associated cost with the stream."- Paul (Shaq vs Gronk)
For some events, like Shaq vs Gronk, securing sponsors was how they funded the event. The event worked with presenting sponsor The General® Insurance, as well as others like McCormick Grill, YAPPA, Monster Energy, Rocket Mortgage, and a few more. However, an event like this had massive celebrity power and could leverage an already established digital footprint. For those who may not have enough data to present to potential sponsors, other options like a "pay-per-view" model may be a better avenue for generating revenue.
"Paywall & work through monetization" -Lauren (Retrospekt Fest)
"Choosing a streaming platform that easily allows people to financially support the venues/artists/our organization took a lot of research. We are still struggling with our current setup when it comes to dealing with getting the right sound but as time goes on, more and more platforms are being built to fit this need." -Ashley (#WCMOnTour)
Fortunately, PromoStream is a platform that easily allows fans to financially support organizers hosting virtual events. This easy to use, all-in-one platform allows event creators to host virtual events and sell tickets for secured access. It's a simple way to set up a paywall for your virtual event.
Technology plays major role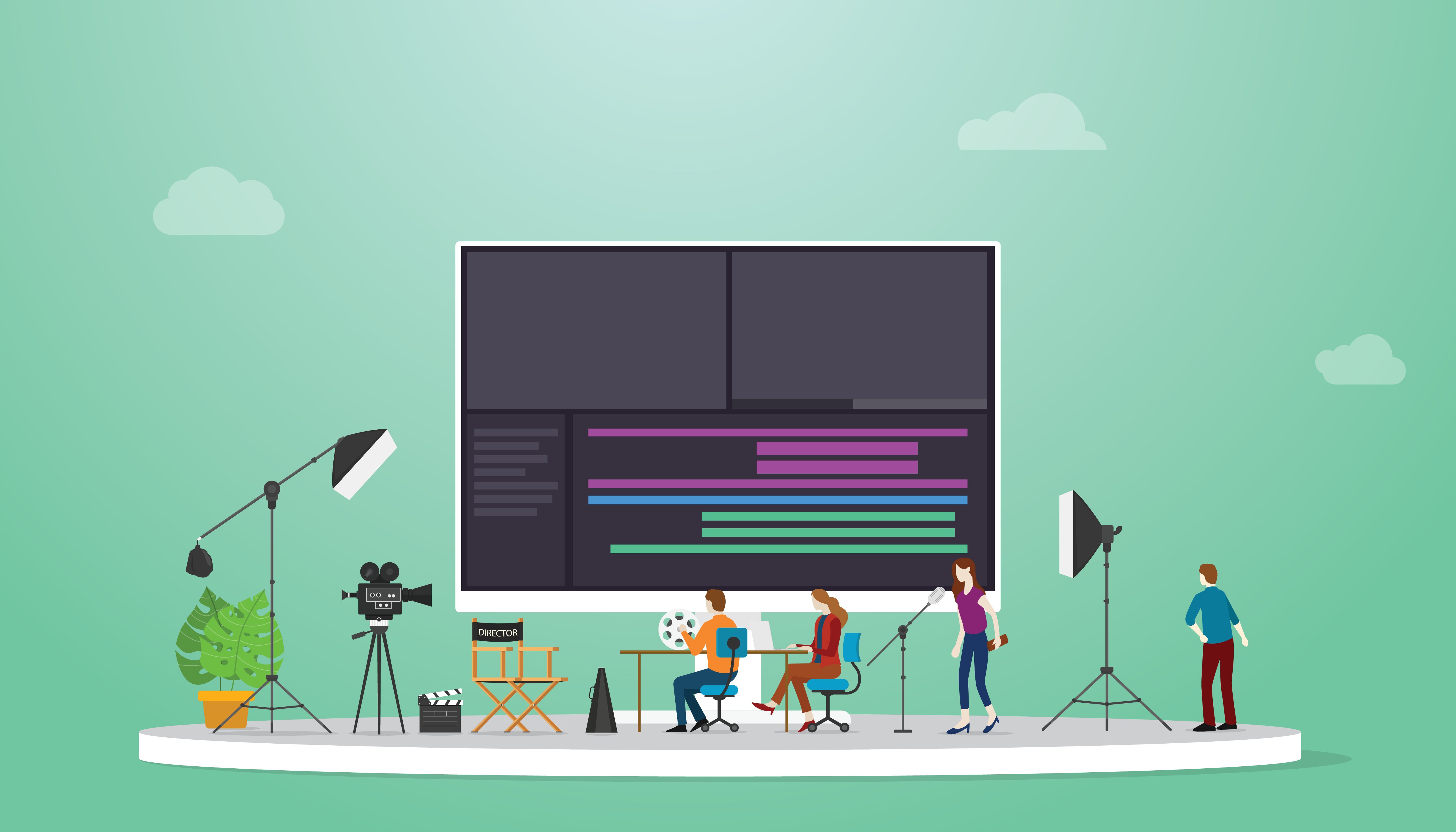 The biggest difference between an in-person and a virtual event is the role that technology plays in the event's overall production. Event organizers have to learn not only how to create a visually stunning and engaging piece, but also how to broadcast it out to thousands, and in some cases millions of viewers.
"Beyond marketing, the technical side of virtual events is a lot more complex than one would think. Booking soon became A&R and liaison for tech issues for 60 artist teams and 10 different partners all via emails and texts. We received the last set 30 mins into the first set of the festival, so most of these things have run us down to the last minute even if they weren't 'live' live streams" -Franz (SummerEyes Digital Festival)
"Our biggest challenge was learning how everything in the streaming and virtual world worked. This was our first time ever doing a live stream so we had to learn OBS, Twitch, and all of the details that went into hosting these types of events. We spent hours learning the ins and outs of programs and exactly how we wanted to host the event while implementing our specific branding" -Cheyanne (FIREWALL)
Practice makes perfect
Testing everything out before going live is critical. Some of the events above even chose not to fully "go live" at all, opting to pre-record the stream instead and premiere it online at a specific time.
"Practice! Make sure to do trial runs more than once and in different variations. This is where I feel like we learned the most and it allowed our event to run so smoothly. We had no delays or lag time when it came to the final production and this is because we knew what would work and what wouldn't." -Cheyanne (FIREWALL)
"While it might be exciting to have your virtual event ~live~, you can create a much higher quality event by having artists re-record their sets. This also limits the amount of troubleshooting, latency issues, and other issues that can occur when a virtual event is actually live. For marketing, I highly recommend finding community organizers to spread the word and host small viewing parties, especially if a majority of your talent is up-and-coming." -Noah (Pride Fest)
Create a marketing plan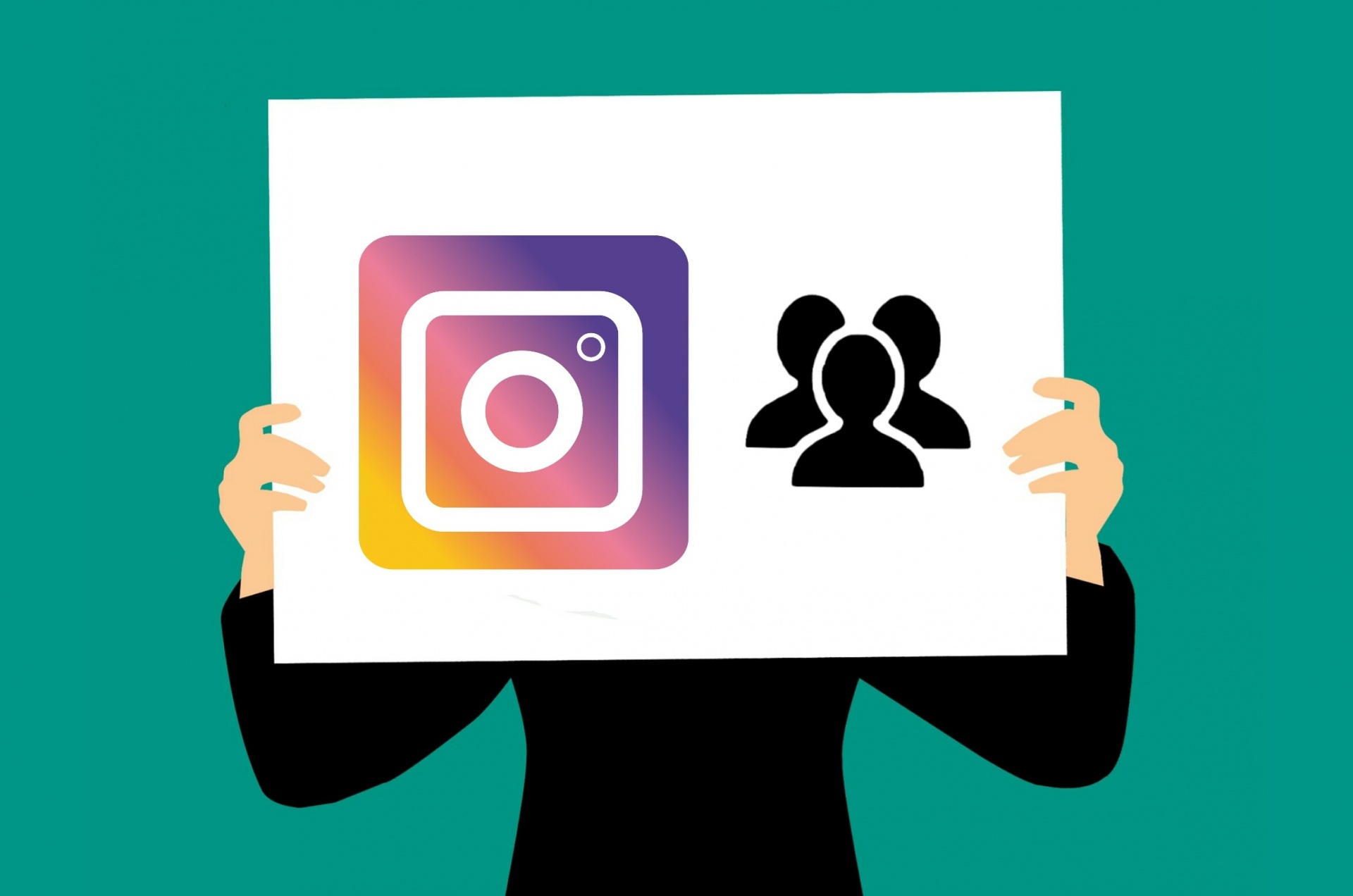 Even though this may seem like a given for any event (in-person or virtual), this step is especially critical for virtual events. When thinking through your marketing plan it is key to remember the unique challenges presented by hosting an event online. Promoting how the event is different, and levering the proper channels are both essential elements to a successful marketing plan.
"Really think through your marketing plan and how you're going to attract fans, what are you offering that they cannot get from all of the other free streams that are happening." -Paul (Shaq vs Gronk)
"Promote, promote, promote! Use ad campaigns, if you can. Add anticipation for the shows, by sharing something on social media platforms of who's playing, what to expect, etc." -Donavan (Thrill-O-Ween)
Best marketing strategies
The major theme from all of the event organizers above was the power of social media. Organic social proved to be one of the most successful strategies implemented by each organizer. Public relations, engaging the media, and sending out press releases proved to be the second most successful strategy deployed. All event organizers used these three channels to promote their virtual event. In addition, paid social media and email marketing also were useful, but not used by all.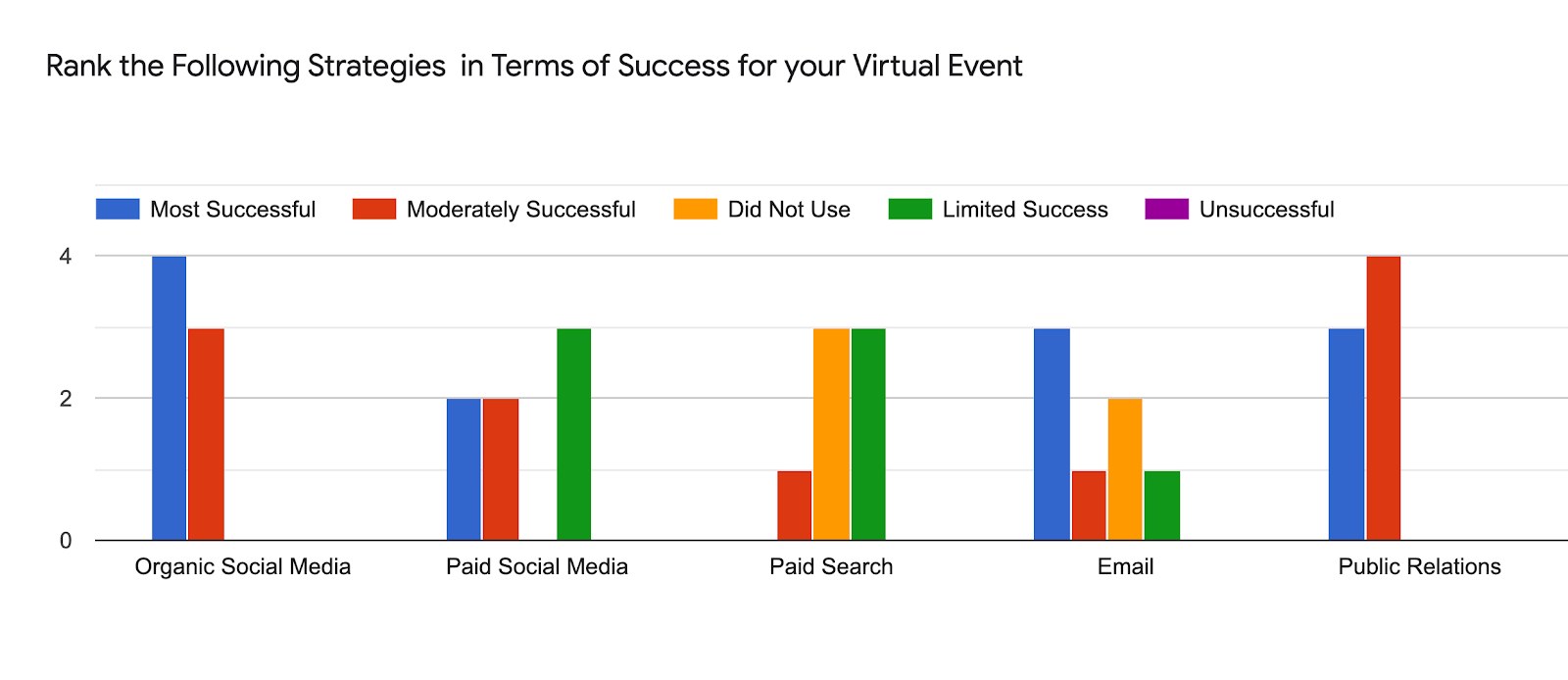 "Doing a virtual event is different from in-person events. Attracting fans to the stream and making sure awareness is high enough to get solid viewership numbers. PR played a huge role in our event considering the talent involved. Paid socials pushed the awareness along with posts on Shaq and Gronk's social media accounts" -Paul (Shaq vs Gronk)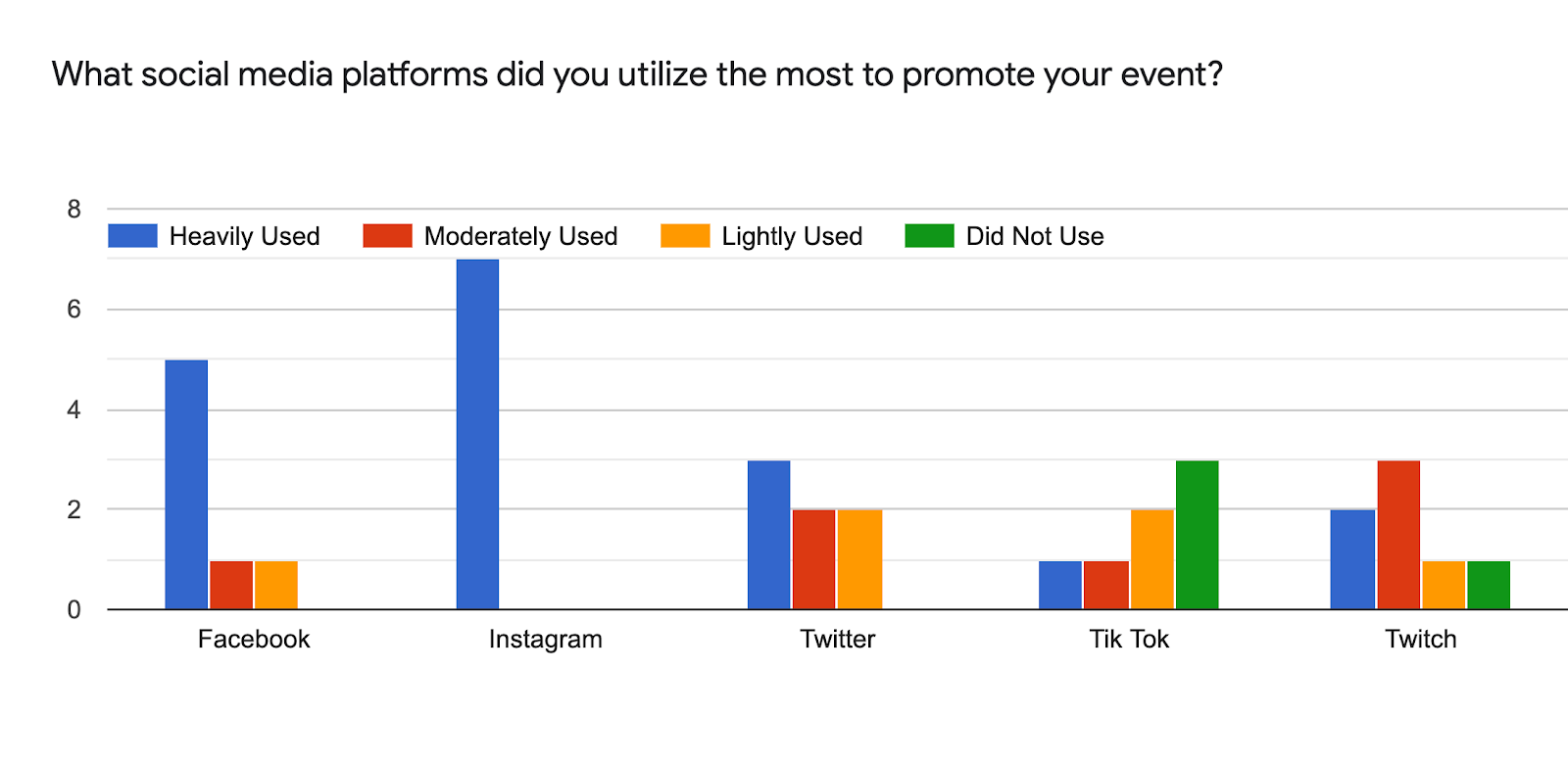 When it comes to social media, content is king. Most events heavily relied on Instagram, which is completely dependent on high-quality pictures and videos. Pre-recording the event presents a huge opportunity to create marketing materials prior to the live stream. Ensure that your content is worked into your marketing plan ahead of time.
Prepare for changes
As the Greek Philosopher, Heraclitus, once said, "Change is the only constant in life."
"The concept originally came together after the pandemic began and shut down all live venues and events. We wanted to create an event that supported the nationwide need for community support, which for us at least meant helping out-of-work music industry workers. We planned our marketing around educating the public on what's going on and how they could support it. Two months in, the death of George Floyd and ongoing civil rights abuses spurred national outcry and protests. With only a few weeks before our event and mere days before the lineup announcement, we pivoted our charitable direction to what felt more present and focused, ultimately fundraising for Campaign Zero, Until Freedom, and BLM. This required refocusing our marketing direction and re-educating ourselves to properly provide an impact on our event and representing them well." -Franz (SummerEyes Digital Festival)
Other marketing strategies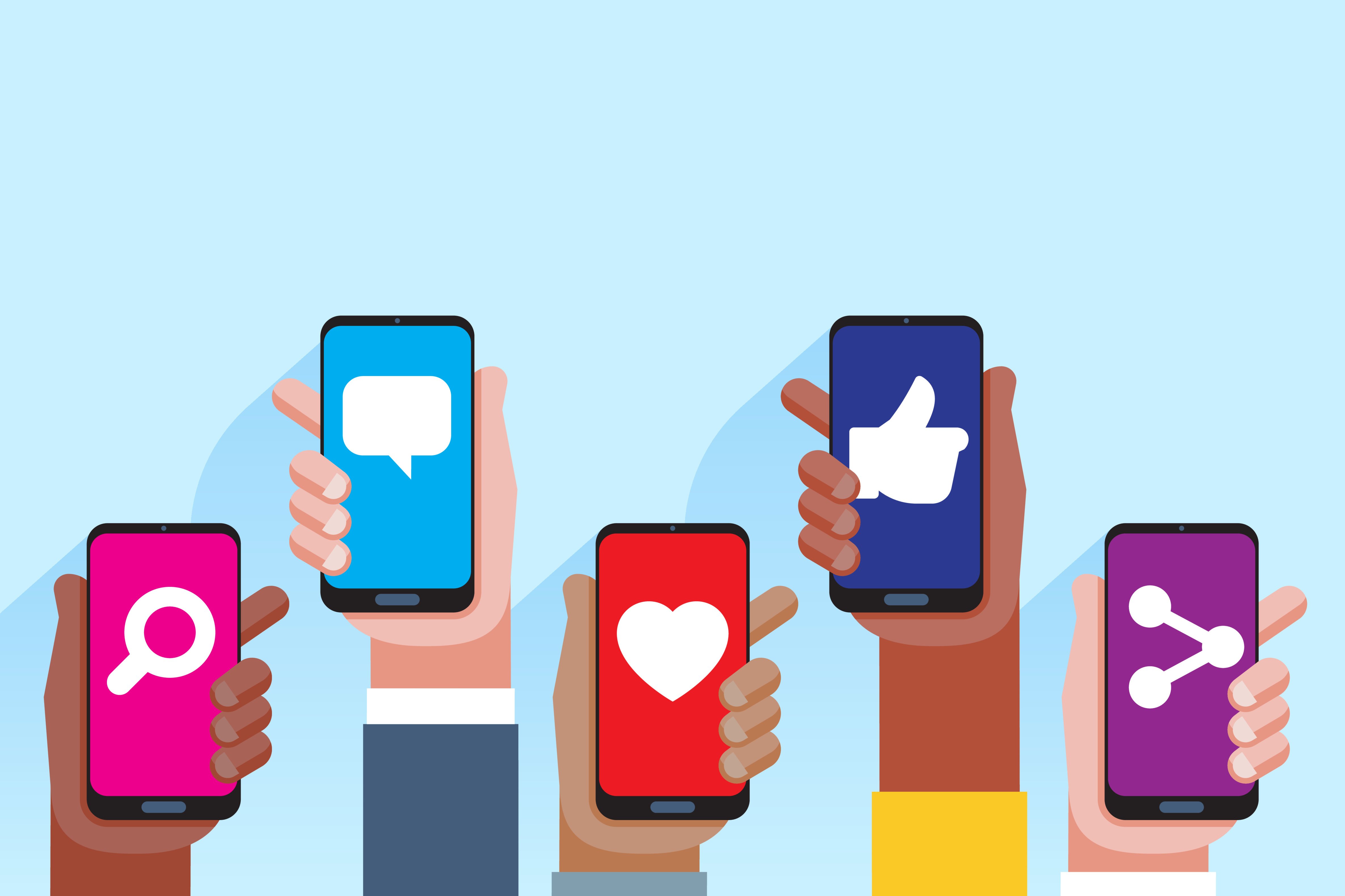 In addition to classic marketing strategies like social media and paid advertising, many of the event organizers utilized other avenues such as partnerships and community engagement to market their events. Cross-promotion can be a massive help in amplifying your event across the internet.
"Partnership Marketing & Labels & Management Teams" -Lauren (Retrospekt Fest)
"Bringing in tech and app partners to find new ways to connect with fans. Namely Unitea Music
We made sure to have assets for all the artists including artist spotlights and the event lineup." -Franz (SummerEyes Digital Festival)
"100% of our donations went to organizations that benefited LGBTQ+ youth and POC. These organizations were willing to help market and promote our event." -Noah (Pride Fest)
"We sent out press releases that hit a number of fans. We also had the partners we worked with creating videos, like small commercials, that we could use in between sets but we also used these for marketing strategies when it came to hitting their audience and bringing in new faces prior to the event." -Cheyanne (FIREWALL)
"Staying engaged with your community pre and post events is going to make your events a lot more successful!" -Ashley (#WCMOnTour)
"Having affiliates/sponsors who are down to help promote the event helps, too!" -Donavan (Thrill-O-Ween)
Interested in creating your own virtual event? Learn how you can host a secured, ticketed live stream event on PromoStream.