Learn about live streaming timelines to create an effortless event
So you have your idea locked in for a live streamed event and are ready to start promoting and selling it. But what is the first step?
We hear about creating marketing content leading up to virtual events, but rarely see these timelines broken down. The most important aspect of promoting live streamed events is generating traction and awareness surrounding your live stream's content. With the help of different social media platforms and email campaigns, you can generate bigger followings and also attract more attendees and viewers along the way.
PromoTix Marketing can help you target specific audiences and demographics by leveraging its large database. PromoTix Live Streaming can also allow you to sell and distribute tickets from the same platform that you host your live streams on. But before diving into that, we've created this useful timeline to help ensure your first live streamed event goes smoothly.
Live stream timeline
Five weeks before
| | |
| --- | --- |
| After you've decided on the date and time of your live stream, the first step is to begin promoting it. Keep in mind, 80% of people would rather watch a live video from a brand than read a blog, so you are already on the right track! First, you will want to create some sort of "virtual access ticket" so that your attendees can view your live stream. Whether that means selling e-tickets or having a free RSVP list, your event's sign up process can inform you on viewer count and also provide you with valuable data for marketing. | "80% of people would rather watch a live video from a brand than read a blog…" |
Five weeks before your event is the perfect time to develop a marketing plan built heavily around email marketing and/or social media. Any point earlier might be too early, and may cause your audience to forget about your event. Starting promotions later may prevent your marketing campaigns from receiving maximum exposure, or leave your viewers with too little time to make a decision on whether or not they would like to tune in.
Creating content for your marketing plan is an important part of this process. Gather information about your event and brainstorm different ways to promote it for the next five weeks leading up to your event date. By planning out the marketing content beforehand, with specific times and dates to post, you can take the stress off of marketing and turn your attention to other important aspects of putting on your live stream.
Two weeks before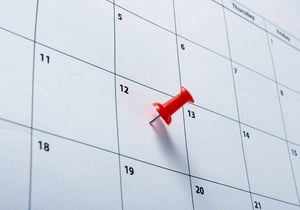 The closer to your live stream event date, the more often you should be sending email blasts and promoting it on social media. Two weeks out from your event, you may also want to send follow up notices to keep things fresh in peoples' minds. Continue to roll out information about your event gradually; doing so will prevent people from feeling like they are getting bombarded with information.
Another useful tactic you may want to use during this time is the use of cross-posting. Posting on different social media outlets can boost your awareness and also generate more momentum. By looking at your audience demographics, you can also see which social media platforms are performing the best. As mentioned before, the closer your event date is, the more your should probably be posting. It may make sense to schedule out a couple of social media posts per week, or even once a day depending on your event.
With your social media posts, running contests and including effective hashtag can also boost your momentum.
Day of your event
| | |
| --- | --- |
| On the day of your event, sending out a last-minute reminder to those who have registered is a great tactic. In the reminder, clearly remind your viewers about the details of your event, and also include when and where you will be live streaming. PromoStream is a platform that can allow you to sell virtual access tickets, and also host your live stream all in one place. By combining ticketing and live streaming together, PromoStream streamlines the process for both yourself and your viewers, helping you build repeat viewership. | |
Aside from content marketing, make sure you have everything organized and ready to go before your live stream. Double check your audio, visuals, and the rest of your tools and equipment to prevent any issues from popping up during the stream. Double checking can also help you put your nerves at ease before going live.
Need more marketing help?
Download our "Guide to Market Your Live Stream Event" PDF to guide you through marketing your virtual event. Learn how to leverage social media and registration pages to make your event go viral.