Why you should prioritize tent rentals in music festival planning
When you're planning an electronic music festival, you might have questions about prioritizing planning and budgeting. We get it! Event organizers don't have it easy trying to strategize on every single component. That's why we've created a guide to help check festival tent rentals off the planners' list.
Party tent rentals are needed in many key areas around the event that are important for the overall music festival business plan. Providing shade for event staff, volunteers, and attendees will help with visibility for important areas and produce loyal returns from all sides in years to come — a fundamental event goal for business! Follow along for our most important tips for rented festival tents planning and budgeting.
Planning how many tents are needed for the music festival
Finding out the number of tents you'll need for your event is the first step in this process. This number depends on a variety of factors, so you'll need to think critically.
We'd recommend using a festival map in this step. Use your event map or diagram to get a complete visual of the venue, and then break down each section into its granular parts. Which areas are operated by employees or volunteers? Which areas need shade for your attendees?
It's a lot of details to look over and consider, but here are a few ideas to get the ball rolling for the tent rental plan:
Venue front gate tents
The entrance point of the entire outdoor music festival — this where the magic begins! Initial ticket scanning, car checks, and will call booths are all housed here. Tent rentals are a necessity in this section for shading security staff, volunteers, and employees. They also give incoming attendees a visual of where they're going when they enter the festival grounds.
"Motherland" venue entrance tents
When we say "motherland" tents, we're talking about where the attendee camping ends, and the electronic music stages begin. Assuming this is an outdoor event, you'll want to keep tents here for shading your event staff. They'll need as much sanctuary as possible while they scan each ticket to your sold-out summer music festival 😉
Front of house tents
These tents are there to protect the most valuable asset for a music event. The sound booth area where the artist's crew operate audio and visual equipment must be protected from sun and rain. Great sound and lights are required to put on a truly memorable electronic music festival. This area could also provide a haven for music industry press and media covering the event.
Merchandise tents
Most event creators know that this is where a big chunk of the money is made! When you have hundreds of attendees lined up to buy merch from your electronic music festival, security can be a big concern. We recommend choosing tents with sidewalls to avoid any mishaps or money loss.
Festival vendor tents
Your festival business plan should include several outside vendors. Not only can you make some money back charging them for space to sell their art, but the artists will be much happier with the comfort of shade. Happy artists mean less time filling up vendor spaces next festival season.
Bar service tents
What's a live music festival without plenty of bars for attendees to enjoy themselves and (responsibly) let loose? More bars = greater ROI for your event, so try to plan for quite a few tents for these areas. The smart event planner will have at least one bar near each stage, throughout "main street" areas, and anywhere else where attendees gather.
"Tent city" tents
These will typically be trapeze-style tents like ones you'd see as a circus. We call them "tent city" tents because these bad boys are big enough to shelter all of the event staff tents from rain, as well as keep the ground around them dry. Your event staff, security team, and volunteers will have the privacy of their own tent quarters with added protection from the weather.

Other types of tents to consider
Shuttle pickup and drop-off tents
These tents are nice to have for providing attendees with shade while waiting. The average event producer might not prioritize this area above others, depending on the music festival budget.
VIP viewing tents
When deciding if you want tents in these areas, consider how they may affect the attendees' views. It might be better to keep it only in a small section of the viewing area so each person can decide for themselves if they want to be under the tent or not.
Beer garden tents
Craft beer popularity has gone up a lot, so adding a beer garden tent in your music festival business plan could bring tons of value to your music festival.
Trash drop off tents
To make cleaning up more efficient, you might want to consider placing a few trash drop-off areas throughout the camping grounds. Be kind to volunteers working in this messy department by giving them some shade. It'll also provide visibility for attendees to find the drop-off spots.
Attendee activity tents
This number will fluctuate based on how many activities you offer and how much space they'll take up. Think art bars, crafts, yoga, cosmic gongs— leave some room in your budget for a few of these to elevate the attendees' experience.
Artist and press credentials pickup tents
You can put these tents near the venue entrance tents or wherever the designated entry point is for artists, media professionals, and any other person that needs higher security clearance to move around the event.
Backstage hospitality tents
Hospitality areas for artists and their crew are not needed but nice to have if your budget allows it.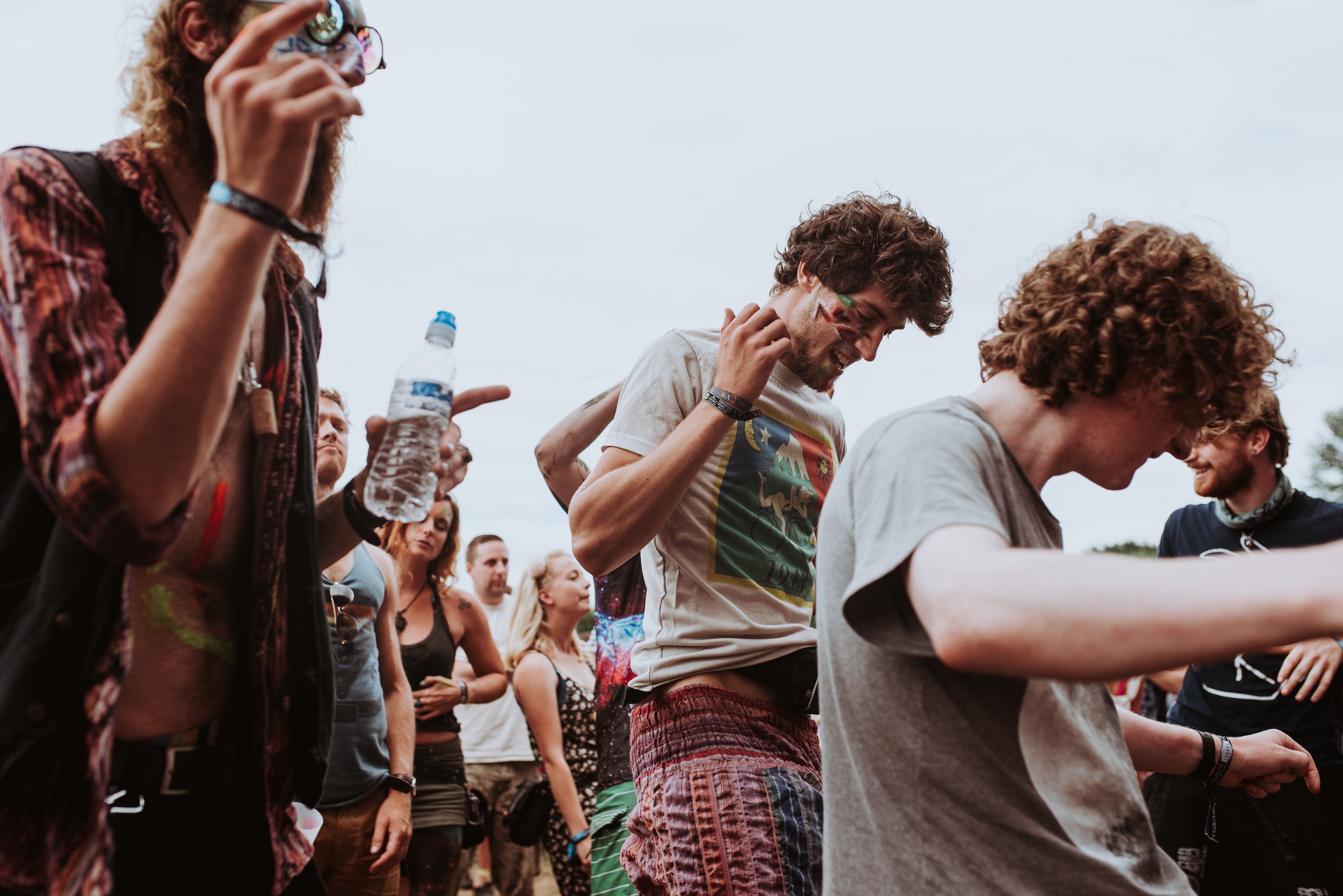 Types of tents to consider for a music festival
Now that you've got a pretty good idea of which sections of the fest need tents, the next step is to choose the specific type of tent that makes sense (structurally speaking) for each area. Here are the main types of tents most party rental companies have to offer.
Pole tent
This is the type of tent that is supported by poles and wires. A pole tents come in a wide range of sizes; therefore, it is an excellent option for music festivals. However, it should be noted that a pole tent should be installed into the ground and not the concrete.
Frame tent
While these tend to be more expensive than pole tents, a frame tent uses a tubular metal structure to support canopies. Because a frame tent doesn't have to rely on center poles for support, you can place them almost anywhere.
Marquee style tent
A marquee tent is a hybrid of a pole tent and a frame tent. They have more of a "permanent structure" look like pole tents do but are installed easily like frame tents. We recommend using these for bar areas.
Questions to ask party tent rental companies
As you begin shopping around for a party rental company, you'll want to make sure you gather all of the necessary information. Here are a few examples of questions to ask to help you make the best decision:
Will the rental company deliver and pick up the tents?
If you're putting on a large music festival, you're going to have a lot of tents and need a large towing vehicle to get them to the venue. If you don't have one of these vehicles easily accessible, this question is crucial. Companies that deliver them may, however, charge an extra fee.
Does the rental company provide tent assembly?
While it's possible to have event staff or volunteers assemble the tents, it might save you money to see if the rental company will do it. Even if they charge for this service, it could be less money than allocating event staff or volunteer hours for this task.
What are the cleaning or return requirements for rentals?
You'll want to make sure you ask the party rental company if you have to clean the tent before returning it. There may be additional fees associated with cleaning, and it's best to have all of that information up front. Take a look at this article for tips on the proper way to clean large event tents.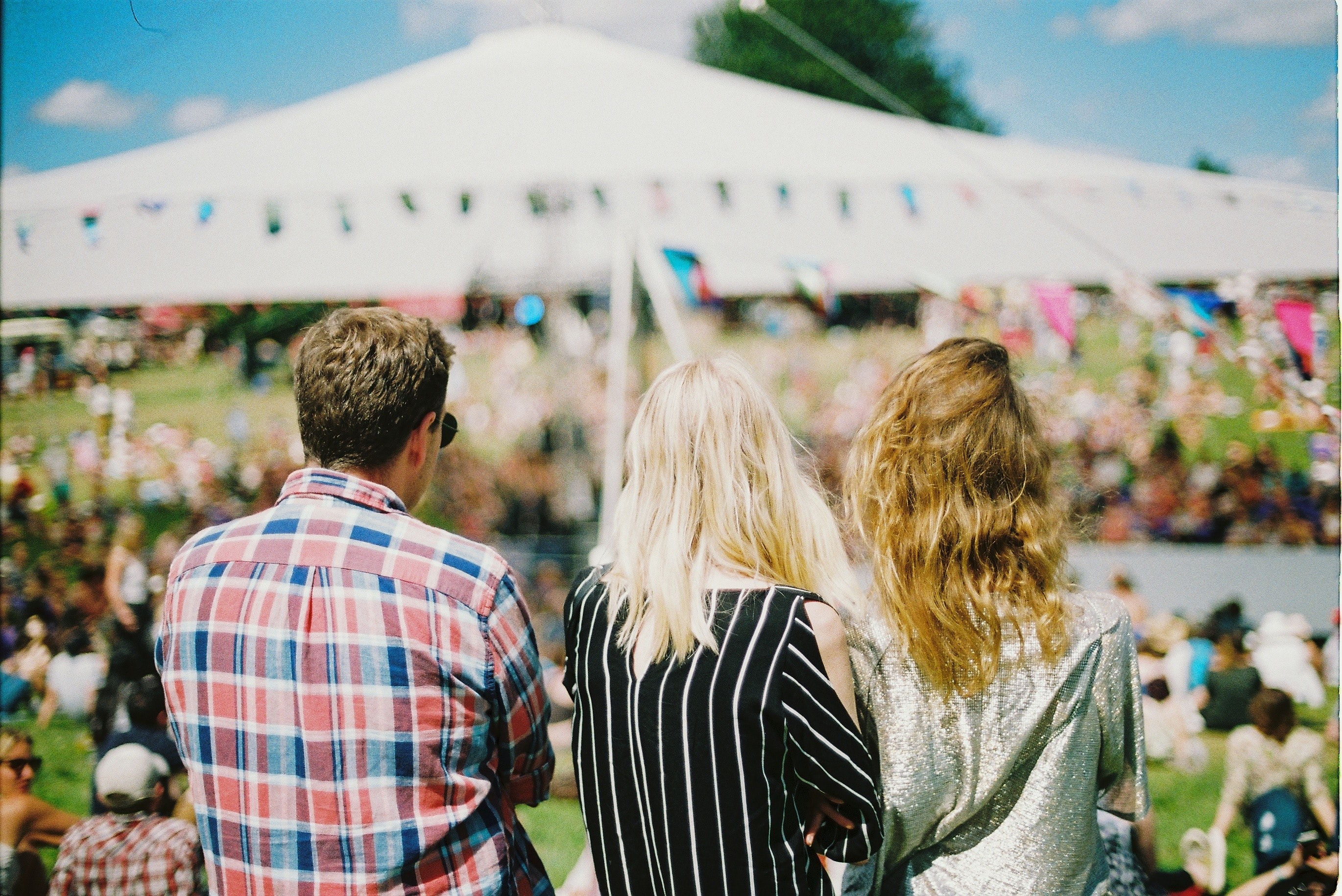 Other items you might need for your music festival tents:
Tables and chairs
Don't forget these! You'll need different kinds for different areas. For example, for a beer garden tent or the VIP areas, you may want to invest in upgraded rental furniture for the fest. Tents at the venue entrance and motherland venue entry points would be fine with folding tables and chairs.
Sidewalls
These would probably be an additional charge from the tent rental companies, but you will need them for specific areas. Consider sidewalls for any place where security could be a concern like bars, merch tents, will call, etc.
Signage
Tents and stages are the first things attendees look for to guide them around the festival grounds. The second thing they'll most likely look for is a sign showing them that they're in the right place. Think critically about which tented areas are the most searched for— will call booths, credentials pickup, lost and found, etc.
Budgeting for music festival tent rentals
If you've finished determining how many and what kind of tents you need, this part will be a breeze. When you're shopping around different party rental companies, try to get as much information on pricing as you can. It also wouldn't hurt to ask about bulk discounts since an event planner needs more tents than, let's say, a wedding.
When you're finding out how much to spend on tent rentals, start with the largest number from the initial assessment and make budget cuts as needed from areas that aren't a priority. You can easily do all of this math and edit with our free budgeting tool.
And now you can check it off the list!
You've considered all of the areas that need large tents, learned which types of tents are available to you, and know what to ask the party rental companies. Now you're ready to determine your budget and take one step closer to showtime (cue applause)! Download our free tool below to get started.