About Spring Up Celebration 2019
Spring Up Celebration taking place April 25-28, 2019 is about celebrating life, lifting spirits, and unleashing your infinite potential. This April, friends and family of all ages will be gathering on over 150 acres of pristine woods, meadows, and ponds over at the Wildwood Outdoor Education Center, 30 minutes south of Kansas City, KS.
Rekinection (the organizer of the festival) is going bigger than ever this year: 3 stages, a killer lineup including acts from all around the world, zip line rides, and over 50+ speakers, activities, and workshops to enlighten your body and soul! Don't forget to bring your camping gear 😉
From yoga and meditation to a sonic and visual spectacle from Wookiefoot... Spring Up Celebration 2019 has got you covered.
Thinking about attending?
Well we have good news for you... you and your friends can earn FREE tickets (plus many other awesome perks and prizes)! Rekinection has partnered with PromoJuice to manage their street team program this year... so what are you waiting for?
(Street team applications are now closed)
Check out Rekinection's website for more music, holistic wellness, performing arts, and art - and don't forget to scoop your tickets for Spring Up Celebration 2019 here: https://rekinection.com/spring-up-celebration-tickets/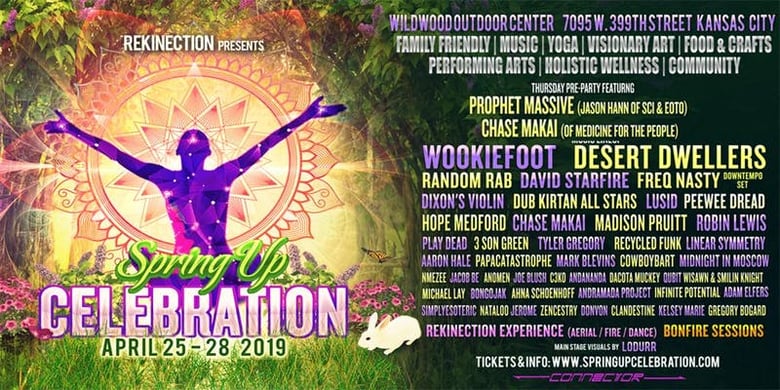 (via Rekinection)
(via Rekinection)
About PromoTix
PromoTix is unbeatable event ticketing software for music festivals. Before we built PromoTix, we threw music festivals, concerts, and owned music venues. We saw what was broken with traditional ticketing and created PromoTix. Our goal is to help promoters make more money with ticketing and marketing software built specifically for music concert promotion. Our event creators utilize our software to skip those massive ticketing fees that other ticketing platforms charge. Skip those five-figure fees and come join the PromoTix family for your next event.