What is Planned?
Texas has announced that they are changing their guidelines soon regarding COVID-19, which could be good for the music industry. A well known EDM artist, Yellow Claw, has a show quickly coming up in Dallas scheduled for December 4th, 2020 along with another artist, TOKiMONSTA being booked in Dallas towards the end of January. Aside from these, El Paso, San Antonio, and Houston are already having concerts in venues such as The Plaza Theatre Performing Arts Center and Arena Theatre.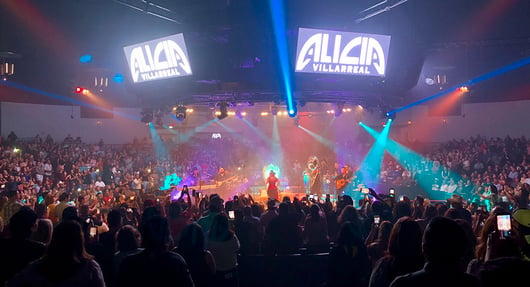 Click

here

for a list of other concerts happening in Texas
Texas Highways posted on November 9th, 2020, "Now, even as the pandemic surges again, music and musicians are gradually—and for the most part, cautiously—returning to stages, and drawing paying customers eager to hear them." This is yet another example showing how Texas is allowing venues to host shows to keep them open and keep guests entertained. Although the venues are allowed to be open, the state requires them to limit the capacity between 25% and 50% depending on the venue. Despite the fact that these concerts will be great for keeping the venues open and pleasing music lovers, others might argue that hosting live events even with a limited capacity is a bad idea.
Thoughts From Citizens
From CNN's Gregory Lemos, "El Paso, TX frontline workers call ruling allowing businesses to reopen 'A disaster for our health system which is in near collapse.'" It's clear that not everyone agrees with the decision of businesses reopening with the risk of COVID-19 continuing to spread. Along with some El Paso workers who feel this is a bad idea, Austin-Travis County Public Health Authority extended restrictions on gatherings of more than ten people through December 3rd, 2020 in Austin, Texas.
Along with this, as of November 6th 2020, the governor of Texas Greg Abbott renewed the disaster proclamation from March 13th. This proclamation states that "...a state of disaster continues to exist in all counties due to COVID-19." As shown in the chart below, Texas is experiencing higher numbers of cases. As of November 17th, Texas hit 10,859 new cases, which brings the total case count to 1.11 million cases in Texas and 11.4 million cases in the United States.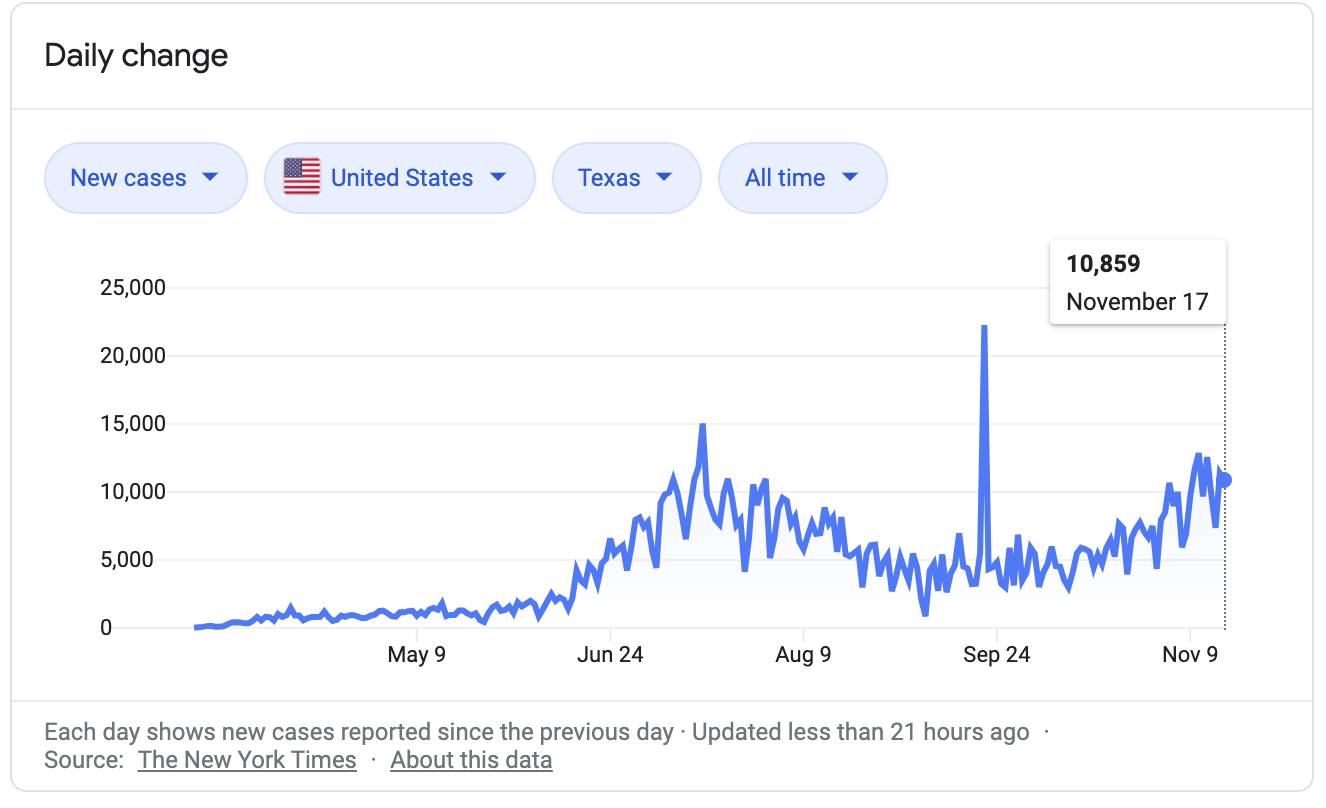 Texas Coronavirus Restrictions: Suggestions on How To Open Safely
With the virus spreading, it is important to continue monitoring the number of people allowed in venues and making sure that everyone is practicing social distancing and wearing masks. Aside from this, venues are also considering the possibility of live streaming their shows so that attendees who are not comfortable attending in-person can attend from the comfort of their homes. Drive-in concerts are yet another way music event creators are continuing to host events during the pandemic.
The city of Austin released a guide on how to reopen venues safely which includes actions venues can take when they decide they would like to resume shows. The guide is very easy to follow and includes advice for venue owners split into two categories: "What You Could Do" and "What You Should Do," along with an estimated expense for each action. It also has different sections which explain procedures for sanitization and food and beverage service.
Event Safety Alliance Reopening Guide
The Event Safety Alliance Reopening Guide has suggestions on how to keep venues open while making sure guests are safe. They suggest, as I mentioned before, that all guests wear face masks, and they also encourage events to be held outside so that the virus is less likely to spread. In addition, the guide recommends placing physical barriers such as plexiglas partitions around performers and artists to reduce spread. Also, they suggest that venues take guests' temperatures and have them fill out symptom questionnaires.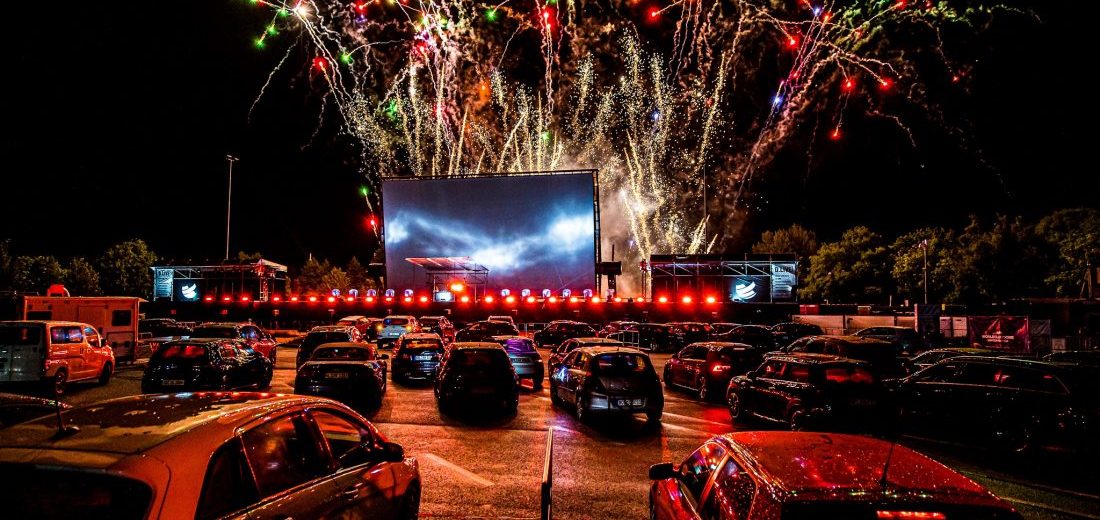 COVID-19 Nightlife Guide
The Covid Nightlife Guide has more suggestions on how to reopen and operate during COVID-19. This guide recommends that the venues place bar stools and tables farther apart so that guests cannot sit as close to each other, and that partitions are installed to separate guests from the bar staff.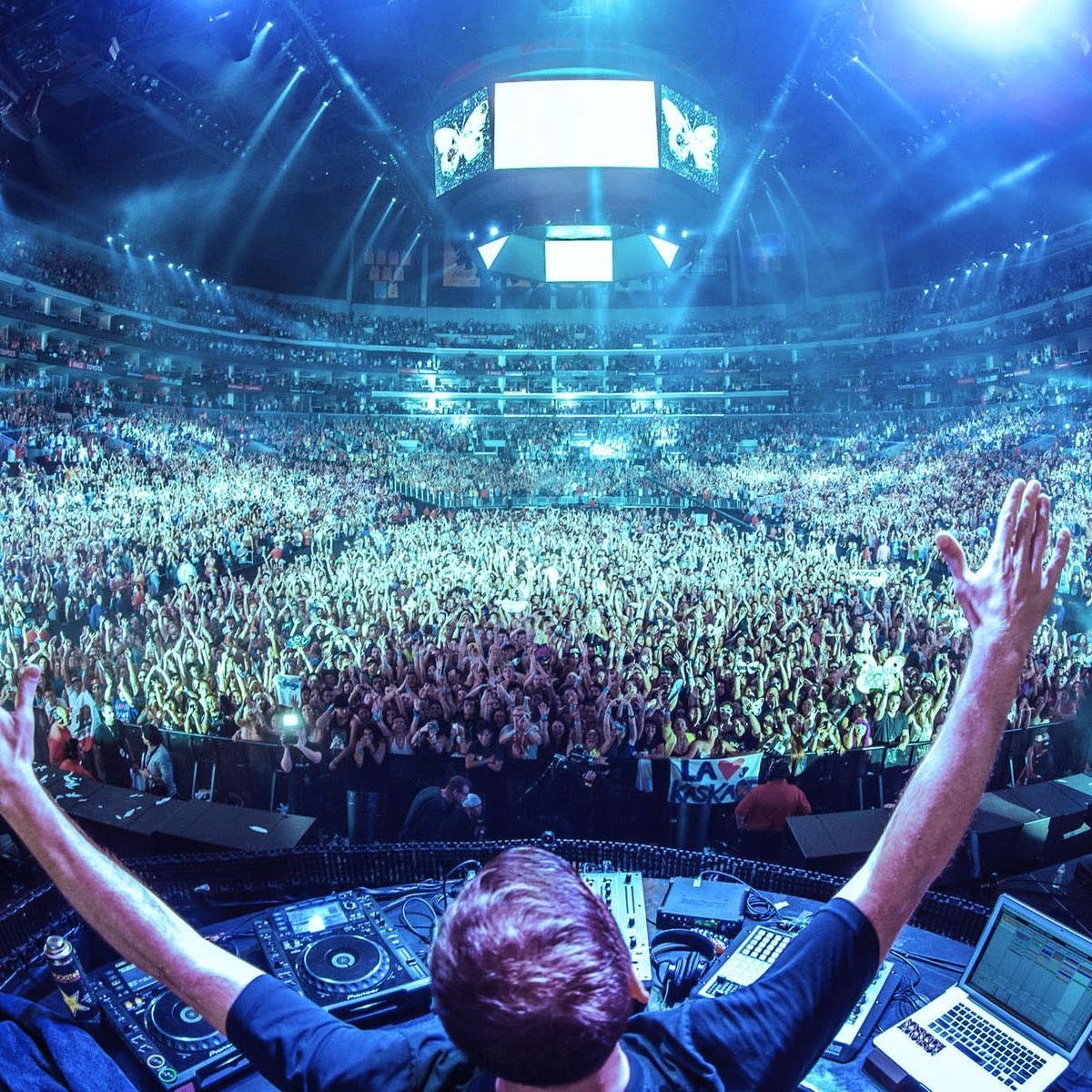 COVID-19 Preventions
The CDC has provided a list on how to protect yourself and others from COVID-19 which includes hand washing, avoiding close contact, wearing masks, covering coughs and sneezes, and much more. Please view this list if you are unaware of how to protect yourself. Help stop the spread.
While the return of live music events in Texas is a step in the right direction for keeping the industry afloat, smart policies and cautious steps must be taken so that these shows will last and venues will continue to stay open.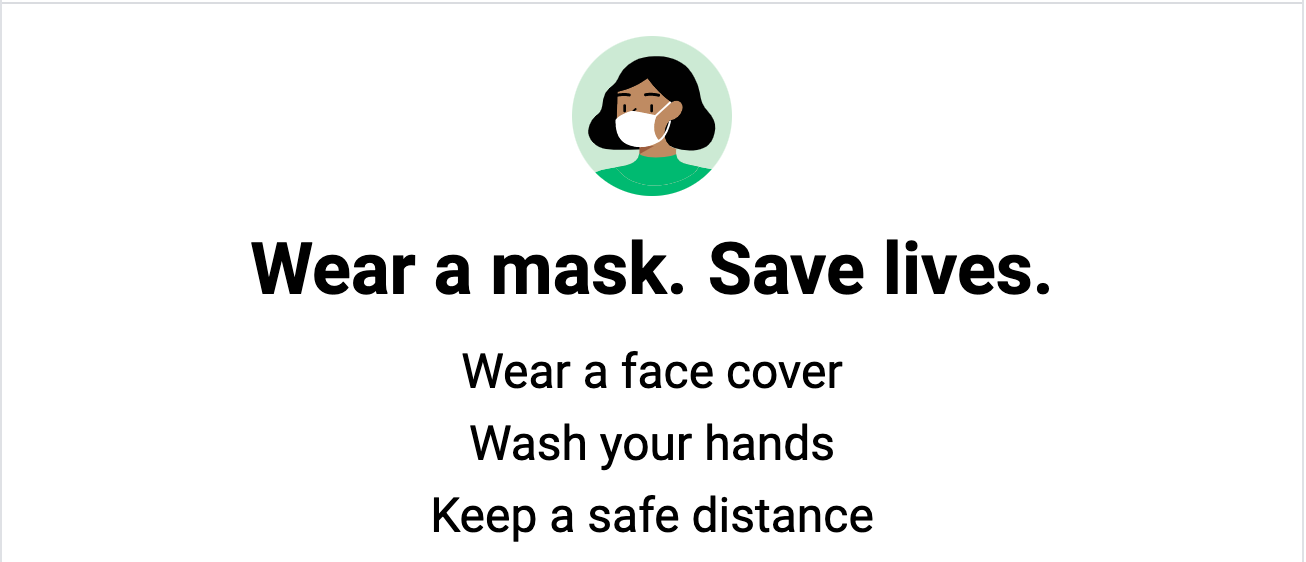 Event/Venue Guides
https://www.covidnightlifeguide.com/
https://static1.squarespace.com/static/5aec979d3e2d09db8bcad475/t/5fab1855ac99946fb7a9eeac/1605048424467/2020-11-10+Reopening+Guide+-+Six+Month+Update.pdf
https://www.austintexas.gov/sites/default/files/files/AUSTIN%20REVS%20DRAFT%20FINAL.pdf
National Resources
https://www.cdc.gov/coronavirus/2019-ncov/index.html
https://www.cdc.gov/coronavirus/2019-ncov/communication/index.html
https://www.cdc.gov/coronavirus/2019-ncov/communication/print-resources.html?Sort=Date%3A%3Adesc
https://www.cdc.gov/coronavirus/resources.html
https://www.cdc.gov/coronavirus/2019-ncov/prevent-getting-sick/prevention.html
Looking to host a in-person or live stream concert? PromoTix is the only platform that combines ticketing, marketing, and live streaming into one powerful tool for music event creators. See for yourself by requesting a demo.