Here's why you should be teaching yoga classes online
Have you ever struggled to teach a yoga class while balancing a full-time job? Do you travel a lot, and wish you could spend less time traveling and more time teaching? Are you limited by the physical space at your yoga studio, and would like to reach more students and make more money? There is a solution to all of these problems when you consider teaching online virtual yoga classes over traditional in-person yoga classes. Live streamed, online yoga sessions are also likely to benefit your students. Students that have time constraints, and can't seem to squeeze in enough time for their workouts may benefit from taking online classes instead. Consider the following pros and cons of teaching yoga online.
| | |
| --- | --- |
| While the experience of meeting in person may be different from meeting online, hosting live streamed, virtual yoga sessions can reach people from all around the world, thus improving the lives of more people. Since Americans are already spending $16 billion on yoga classes and merchandise each year, the shift to a less expensive, more accessible form of yoga is compelling. | "Americans spend $16 billion on yoga classes, clothing, equipment, and accessories each year.…" |
Live online yoga classes
The drawbacks
Commitment issues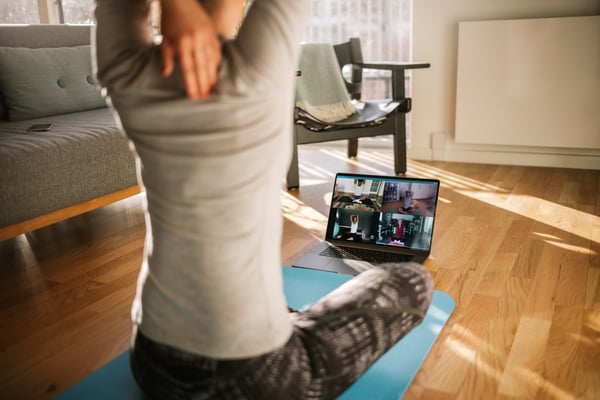 Teaching yoga remotely can be daunting, as it may lead to some students becoming less disciplined and not showing up to class. By not having to attend class in a studio, some clients may not feel as much of an "urge" to show up when it's time. This is why selling tickets to your online classes can help keep your students accountable. Live streaming software like PromoStream is a perfect solution for live streaming, and also ticketing online virtual classes.
Building bad habits
Teaching your class how to do the downward-facing dog pose correctly is easier to do in person compared to online, understandably. As an online instructor, you'll need to take extra care to ensure that your students are understanding your lessons fully, and performing your poses correctly.
Lack of group energy
When teaching yoga in a physical space, you can sense the energy and pick up the mood in the room. Without that in-person dynamic, it may be difficult to gauge how your class is following along to your instructions. This is why at the very least, having a chat window is important so that your students can ask you questions when they arise.
Although there are a few downsides to teaching yoga online, there are compelling benefits that may easily outweigh the negatives for you.
The benefits
Time management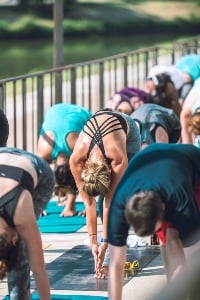 With online yoga classes, it's easier to manage your time and plan sessions that work best for your schedule. Whether you're a very busy person, or simply can't be available to teach in person, live online yoga can help you accommodate more sessions with less interruption to your day. PromoStream allows you to sell tickets and go live all in one platform, eliminating the need to travel back and forth between the yoga studio.
Accessibility
Someone who is interested in taking a yoga class, but doesn't have any yoga studios close to them will likely have a difficult time booking one. With PromoStream, you can provide these people with convenient online classes, regardless of where they are located! By meeting virtually, you are more likely to boost your attendance, and increase your revenue as opposed to meeting in person.
Affordability
42% of U.S. consumers believe yoga increases personal well-being. That is almost half of U.S. consumers! Now take into consideration that the majority of these people are most likely practicing yoga in person. Imagine how many more people would participate, if there was a low cost, more convenient way to practice yoga? By live streaming your yoga classes online with a platform like PromoStream, you can eliminate your rental costs, travel costs, and any other expenses you incur while meeting in person.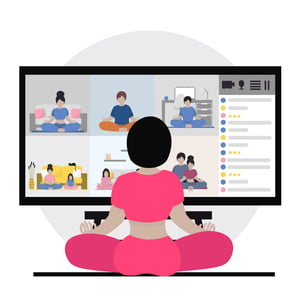 Live streamed online classes are ideal for those on a tight schedule, since they can be fit into a busy schedule much more easily. With PromoStream, instructors like you can live stream to anyone, from any device, from anywhere. There's also no limit on how many people may tune in - with live online yoga classes, the sky is the limit.
Looking for more tips On virtual wellness?
Check out our "Complete Guide To Take Your Wellness Practice Virtual" below to learn how to begin streaming your own classes virtually! We put together all the steps you'll need to follow in order to transition over to the virtual world.