How do you create the best event marketing plan? We all know social media is a key tool for marketing events as well as email, your website, and even possibly a branded event mobile app. Create compelling content and focus on the social channels that will best suit your target audience. Remember to include the hashtag for your event on social media. You can also automate your outreach process by creating a customer persona. After you have established who your target audience is, you can develop an event marketing plan. This plan should include your audience's demographics, the dates of your event, and other details. Let's dive in.
Automating the outreach process
One way to automate the outreach process in an event marketing plan is through a CRM like HubSpot. This technology lets you track the past contact history of any given person. By using CRM, you can track marketing data such as the event the person attended, the amount of money paid, and more. The data you gather can help you create relationships and create loyalty with your target audience. You can also use the CRM to determine who to invite to an event if you do multiple events and maintain a large database.
After your event, you should continue to follow up with your attendees to keep them engaged for the next one. Follow-up with blog posts or emails can help attendees remember your event and take action next time when it comes time to buy tickets. It can include bonus materials from speakers, videos, or photos of your event. For more detailed information about the success of your event, send out surveys. This way, you'll be able to see which actions were most effective and which ones didn't.
Use marketing automation tools such as HubSpot to automate the outreach process. Set up landing pages for your event on PromoTix, as well as viral contest registration pages to collect more registrations and build your marketing database, send emails to targeted audiences, and start the outreach process. To automate the outreach process, make sure you have contact information for the people you want to reach. You'll be surprised how many people will respond to your outreach campaign when you use automation tools. If your event is a big event, you may need smaller follow-up events to prepare the audience for it.
Creating a customer persona
To create a successful event marketing plan, you should understand your audience. To do this, you should create a customer persona, which is a profile of a typical customer. Depending on the event, this persona will have different attributes, such as their needs, goals, and frustrations. You can identify your customers by researching your social media accounts, emails, contacts, and other data sources.
Customer personas are not just for marketers, but can benefit any team member involved in customer service and even your experience curation team too. It will help you create an experience based on the interests, behaviors, and motivations of a target audience. You can also use your persona to determine what your customers are looking for at your event. By identifying what your audience is looking for, you can prioritize your marketing efforts and build a customer-centric culture within your business.
Create your customer persona by writing down the various encounters your target audience will have with your brand. Think about the typical events that your customers attend, their habits, and their demographics. Write the interactions in their voice and in the manner they would experience them. By understanding how your audience feels about a product or service, you'll be able to develop a more personalized event experience and improve your brand awareness.
Including content on your event website
When creating an event marketing plan, include the use of social media to engage your audience. Social media is a powerful tool to reach people who aren't able to attend your event. Use hashtags to spread the word, and make sure your content is organized and easy to find. Use tools like BuzzSumo and Ubersuggest to come up with ideas for blog posts. If you want to send out emails automatically, use a service like MailChimp. MailChimp can also integrate with your ticketing providers like PromoTix .
Creating a good marketing plan begins with understanding your target audience. By studying your audience, you can deliver relevant information and speak to them in a way that resonates with them. Use analytics to uncover insights about your best customers and how to reach them. You may even find deeper demographic information that you can use to tailor your content to suit them. A strong event marketing plan includes a content calendar and a high-level timeline for promotion.
Content for your event website is a goldmine. Think about who is going to write it and take photos. The earlier you start creating content, the better! Also, make sure to publish it on your event website two or three weeks before your event starts. Your audience will appreciate it! It will help your audience stay connected to your event and make them want to attend more often. You can use social media to promote your event.
Creating a timeline
Creating a timeline for your event marketing plan is an important part of the planning process. It's easy to make a timeline by using an online tool, such as GanttPRO, to help you stay on track with your events. Many online planners are free and will allow you to download a timeline template. Then you can customize it and get started immediately. Afterwards, you can save your timeline template as a template and reuse it over again.
While most events are a natural byproduct of company initiatives, they can also be an excellent way to engage prospective clients. Creating a timeline is an essential part of event marketing because it helps you hold yourself and your team accountable for meeting deadlines. Creating a timeline will also help you make sure that your marketing plans are realistic and adhered to. Creating a timeline for your event marketing plan is a vital part of planning your event's marketing strategy, so make sure to develop one early.
Your timeline should start with the date of the event and should include other marketing steps, including newsletters and eblasts. You can also include important deadlines for print advertising and social media posts, as well as cross-promotions. A marketing timeline is a helpful tool for keeping track of all the details so you don't miss any of the important steps. You can even use a Gantt chart or similar project management system to track each step.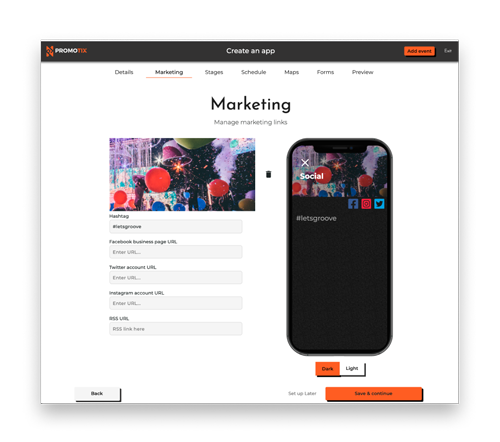 Leverage your event ticket software's marketing tools
PromoTix offers a variety of built in event marketing tools which can help get your event to go viral. Be sure to review the following marketing tools which should most definitely be a part of your event marketing plan. The fact that these tools are built right into the ticketing software means you are sure to connect the return on investment from each and every event ticket sale to the marketing campaign which drove it. Here's a list of PromoTix marketing features you get when you signup for their Ticketing + Marketing package:
Mailchimp Integration for Email Marketing
Google Analytics Integration to track traffic and UTM links for all your marketing
Google Adwords Integration to track Google Ads that lead to ticket sales
Adroll Retargeting pixels to track remarketing ads and banners
Facebook Meta pixel integration to track conversions from Facebook and Instagram
Merchandise integration to sell branded shirts and other merch
SEO optimized event pages for better search results
Viral contest registration pages (Really cool!)
Ambassador network and program module (Available on Pro subscription only)
Branded event mobile app (Available on Pro subscription only)
You can signup for PromoTix to get all of these features built right into your event ticketing platform that will immediately boost your event marketing plan making it more robust.
Including social media in your event marketing plan
Until recently, event marketing relied heavily on live events, but now technology and social media have revolutionized the process. According to a survey, 86% of event marketers say that technology can influence the success of their events. It is a proven way to connect with potential customers and expand your reach, as well as tap into a new market. Listed below are some benefits of using social media for event marketing.
Establish goals and targets for social media engagement
Use Facebook, Instagram, Twitter, TikTok, and Snapchat to reach new audiences
Use hashtags to encourage event-related conversations.
Encourage shares, likes and comments by asking for them at the right time
Using hashtags is an excellent way to build a community around your event. This is an easy and inexpensive way to attract new attendees and foster conversation after your event. Make sure to designate a designated person to respond to questions and comments. Incorporate user-generated content throughout the event, including posts, videos, and images. This way, attendees can see what others are talking about and get an inside look at what your event is like.
- Create a post-event survey. Posting an event survey to attendees' phones is an excellent way to follow up with them after the event. You can also use social media to remind people of the survey. Social media allows you to collect feedback and testimonials from attendees, which you can use to enhance your event's content. And remember to create content for your event's hashtag, which is also a great way to get new followers.
Including email and SMS texts
Incorporate email and SMS texts into your event marketing plan in order to increase the likelihood of your prospects and existing customers getting in touch with you. Events are the perfect opportunity to build your contact list and entertain potential clients. In addition to engaging with them, an event can raise funds for a nonprofit organization. If you're not sure how to go about integrating email into your event marketing plan, here are some tips to keep in mind.
When creating your marketing emails and event SMS texts, segment your audience by age. Gen-Z, millennials, baby boomers, and so on are all important demographics to consider. Email subject lines should be tailored to their interests, as millennials are different from Gen-Z and vice versa. Sending the same email to all of them will not benefit anyone. Use email and text to promote events and share discounts or promotional offers. The more your audience engages with your content, the better.
Use a compelling subject line. A compelling subject line is critical to the effectiveness of your email campaign. Your audience only has seconds to decide if they'd like to read your email, so make sure it stands out in an overcrowded inbox. To make your subject lines stand out, use compelling images, photos, and videos. If possible, test different subject lines so that your emails can be sent out to more recipients.
There is much more that could be discussed in regards to how you can create an event marketing plan, but the above should give you a great start!